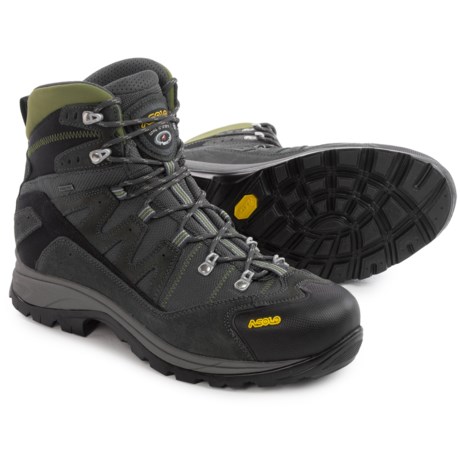 these are my second pair of Asolo boots . I wear a 13 in both . the sizes are consistent. the boots are great right out of the box.

Wendy,
I'm not sure what you mean by size. If your referring to size overall and not the boots foot sizing then yes it's a bigger and little heavier overall boot. I've worn several approach boots while deployed. They are lighter and give you a better range of motion and ability to articulate the foot and feel terrain under your feet. The neutrons are a beefier boot. I wear mine two to three times a week for periods of 8-9 hours just doing normal walking on hilly terrain or on the range. I just recently wore them in a very muddy back country area of WV for a period of 5 days of off road training . They were comfortable for long periods of time. They kept my feet dry even after stepping in and out of a creek a few times, but not over the top of the boot. They cleaned up great after two days of use in the mud. Three days after I got them in NV I did a seven mile hike up mt rose to break them in and not one warm spot or blister. If your a ultra lite back packer or hiker the cactus is good , but for me I like the ankle support and comfort of the neutron while carrying gear on un even terrain or working at night. I would replace the laces with a flat lace though. The ones that come with the boot come untied a lot if you don't double tie them.


Sorry, I can't answer that question as I do not have the Cactus boots. All I can say is that these Neutron boots are true to size for my spouse in comparison with other brands.

ONE THING ABOUT ASOLO BOOTS' IS THEIR CONSISTENCY IN SIZING. I HAVE OWNED AND STILL ORDER WITHOUT HESITATION IN SIZING ANY OF THEIR BOOTS. THEY HUG THE FOOT WITH A GOOD NATURAL FEEL AND WITH HARDLY ANY BREAK IN PERIOD.
THE ONLY SUGGESTION THAT I HAVE OFFERED THE ASOLO MANUFACTURERS IS TO REPLACE A LARGER LACE HOOK IN TAKING UP THE LONGER LACES PROVIDED WITH ALL THEIR BOOTS. OF COARSE THERE ARE WAYS TO WRAP OR TUCK THE EXTRA LENGTH' BUT WOULD BE MUCH BETTER WITH A LARGER LACE HOOK. RIGHT NOW I'M DOUBLE WRAPPING THE TWO TOP HOOKS WITH THE EXTRA LACE. THIS MIGHT WORK FOR YOU' INSTEAD OF GETTING HOOKED UP ON SOME BRANCH OR COME UNTIED.

I do NOT have the Asolo Cactus, but several other types of Asolo boots and have found they are pretty consistent is size between models. Hope this helps.

I am not sure how they compare ... I do know that Asolo will run slightly narrow and always order a half size above your shoe size with hikers. What I do is go to a retail store and try on a pair if you can find them... I have never seen Neutron's in the store so try on a "similar" Asolo for reference. The Cactus seems more like a shoe than a hiker... the Neutron is a hiking boot.. good support and as hikers go... not really stiff... but definitely comes up above the ankle.

Not sure about womens. Men's run slightly small if you wear boot socks

While I don't have the Cactus, I have bought 3 pair of Neutron boots, 2 in size 13 for teenage boys and size 12 for me. They have all been true to size. I prefer a little extra room in toe box to accommodate wool socks? Have been very pleased with the fit and comfort. I haven't been able to catch the Cactus in my size and color (I am a little old for orange color) they look like great boots.

They are close to size, but I order a 1/2 larger to ensure room and accommodate thick socks

Sizes are similar, I do think the Neutron has a wider toe box, more padding around the ankle and is heavier than the Cactus boot. The Neutron is very comfortable and is my go to boot for anything that involves alot of hiking or standing (long lines at concerts ect.)

I find that Asolo boots run the same size as any sports shoe I wear, no matter what the brand. I have also measured my foot with a device that measures feet and Asolo hits it every time. I am not sure of the Cactus boots you are referring to, but I would say they have the same standards.

I ware a 10.5 shoe normally, but I tried a 10.5 boot and it was to tight. So I returned them for an 11 and they were perfect, as I tend to ware a med. to heavy cushion sock. Asolo boots, are truly the best made boot for the money, in my opinion.