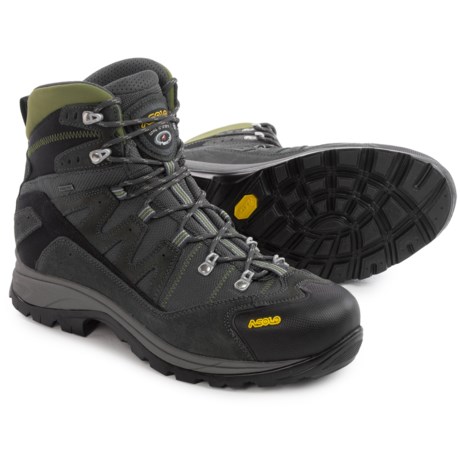 Hello yokel,
These boots are a home run as far as waterproof ability and comfort. I had a older pair that I used last year up in Vermont and they held up VERY well with crampons!! These boots feel very light by the way!
David Grady Madigan

I have used my crampons on the Aslo Neutrons, they are similar to the Grivel G10 in design and worked well with the boots.
These boots are fine for general crampon use on flat to sloped ground but are not stiff enough for ice climbing on steep sections etc. but this would also necessitate different crampons than the G10.
I have a pair of Aslo mountaineering boots I use for more significant crampon applications such as ice cliimbing.
Overall these boots are excellent for most uses, light weight, with great structural support, sole traction and warmth when coupled with a good sock.
I recomment putting a 1/8" foam insert under the foot bed liner for better cushioning, the bed linear in the boot is good for wicking moisture, circulation and structure support but not cushioned.

Best Regards,

TAB

Only a guess...A solo are great boots, but most of today's lighter weight boots do not hold up well to the stress of crampon .

They're not designed for use with crampons and will not hold a step-in crampon. That said, I have used similar Asolo boots with strap-ons with no ill effects... tho not extensively, mostly to cross low angle snow fields that have iced over. I don't think they would do too well kicking steps but they were fine with a strictly downward motion on the foot. Mine showed absolutely no sign of wear after 30 to 40 hours of this type of use. I tried the same thing with a couple of other brands only to have them delaminate in the toe, and the stitching come apart in the uppers. I weigh about 200 pounds, and have been doing this stuff for over 50 years.