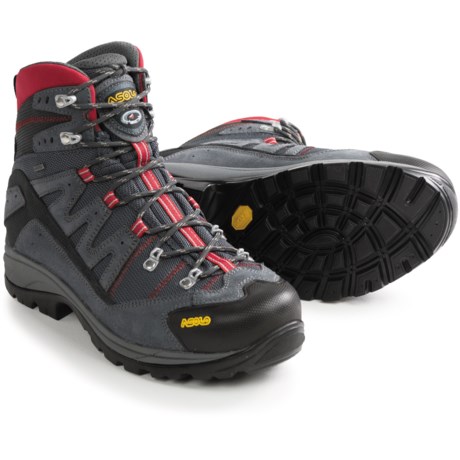 The 6" is measured from the ground, or the sol of the boot

bottom of the foot

Gary,
The boot is 6.5" from the bottom of the foot bed of the boot to the top rim.
It is about 8" from the bottom of the sole to the boot top rim
This is for a size 12 boot.


Highest point is 8" from floor, 6" from top of sole.R.

Bottom of the foot - inside of boot to highest part of boot at side of your ankle. Ground to same point is 8". Also, back of boot is 5" inside and 7" to the ground

The six inch height is from the bottom base of the foot..Eight inches from the ground. [ note ] I don't know your hiking ability or your size you wear. So as for myself I get up to 4 to 9 altitude hikes and sometimes with snow and Ice. And ordered a wide in my size due to climate change to compensate for thick socks. A med size boot does wear in a good snug fit (I experienced a no break in period) and doesn't leave much for thick socks. Just thought I mention this for I have both size neutron boots in different colors.
These are excellent wearing boots' just know your type of usage.

Bottom of my foot in size 14

It seems to be 6" from the foot bed. It's pretty standard GTX style boot.

On my size 8.5 men's, it is from the bottom of the foot. Add another full inch to the ground.

From the out side ' back of the boot
Ground up.is 6". Side's of boot is 2"1/2.higher.
Keep in mind. it's a very"well supported boot.

Bottom of the foot, it's 7" from the bottom of the boot heel (ground) to the top of the boot.