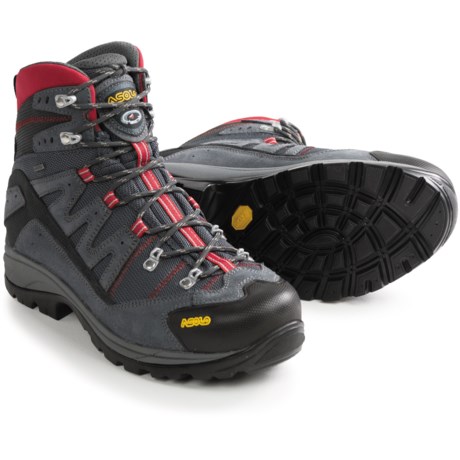 hasn't been a problem for me.

I am a tree climber and wear them all day in the tree with no problems. The metal is not exposed on the inside and are very comfortable. They are even good after a day of wearing spikes. I would suggest that you go for the purchase. I have two pair.

Nope, the inside is padded and covered with the same material throughout. I don't feel the grommets through the material, either.

No, the grommets/hooks do not show metal on the inside. The grommets on the top of the ankle are padded from the inside.

Only the top 2 and the 1st 2 are metal, with the others being some kind of fabric strip. And no the metal ones are covered inside by the padded layer of fabric. Should not be a problem for you. Be sure to check your email for a discount coupon, I got my boots for $99 plus shipping and tax which added about $25. Still a good deal. Boots felt great right out of the box and no break in time needed.

I own 2 different Style Asolo Boots, none of them show any type of metal backing on the inside of the boot.

No. They don't show on the inside and can't rub your ankle.

Yes my ankle bone and Achilles tendon was sore for weeks after a few miles of a relatively easy hike. Shoe lace grommets are not an issue for me.

No. They don't . Very comfortable.

no they do not show metal on the inside.
your foot is completely protected.it's an excellent boot I own several pairs

No metal at all in side the boot . there's protection padding.
It's an Excellent Boot.

no they do not go all the way through. the padding around the ankles is nice and smooth.

No, they don't go through the waterproof lining. They don't go through on Asolo's other boots either.

No, actually have padding in that area and whole inside of boot is lined

The inside of the boot is completely covered by the goretex lining.

Hello, sorry for the delay on answering... no, the lacing hooks are not exposed on the inside of the shoe at all. there is an inner layer of thin foam and fabric so no issue there. so of the lacing loops are actually web loops sewn to the outside of the shoe no rivets at all there.


Grommets and hooks are covered and padded on the inside of these Aslo boots.
I have used Aslo boots for many years for mountaineering and hiking and these are of very good quailty.
Light weight and great structructural support.