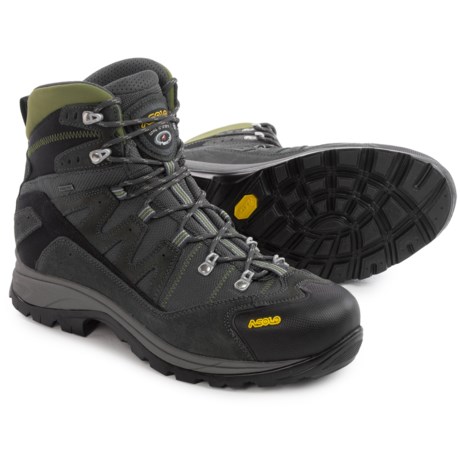 I can't give an exact measurement but I have the "wide fit" and there is still some wiggle room.

With me, a Dw is a Dw. No experience with anything else..

I wear a EEE width and got a pair of 10W that are comfortable. They seemed tight initially but have gotten more and more comfortable over time. I like them enough I got a 2nd pair because I have a hard time finding wide enough boots that are as durable and comfortable as these things are.

Its like a E.

These boots will fit you like a glove. I also have HUGE feet when it comes to width. The most comfortable boot I have purchased in a LONG time!!

I have 2 pair of Size 11 - Wide Asolo Boots. These are a bit wider than normal Asolo's but not a great deal, or not like another Brands. They will stretch but if your foot is very wide it may be an issue. Hard to say.

The wide is exceptional For a wide foot. you may want to go with the next size up. It can Help alot. if not hey' return the item. It's worth trying.
try your regular size. and the next size up. then whatever works ?keep one .return the other pair.the reason is"
it's worth the try it's an excellent Boot.p.s.go for it.

I wear an 8 1/2 wide in the Neutron. My normal shoe width is a D or E. The Neutron fits tighter than other Asolo boots I own. All of them are comfortable for me, but may be a bit tight on a triple E.

I have wide feet and often wear a 2E but the standard width in the Neutrons are fine for me.
I would guess that a wide width in these would be fine but have not ordered them in wide.

I wear a wide. A 3E would be tight in a Asolo, please note the toe cap is narrow. I would get a 1/2 size larger or better

I just received my 10.5 wide Asolo Neutron. I wear 10.5 EE (New Balance EE fit perfectly). This boots are tight! Note that my boots do not state 10.5 Wide, EE, or anything, but the tag and the box say "wide fit". I had a pair of Asolo Scaffel that were wider than these. Very nice boots, but considering if they will stretch or if I will have to return because they are too tight.