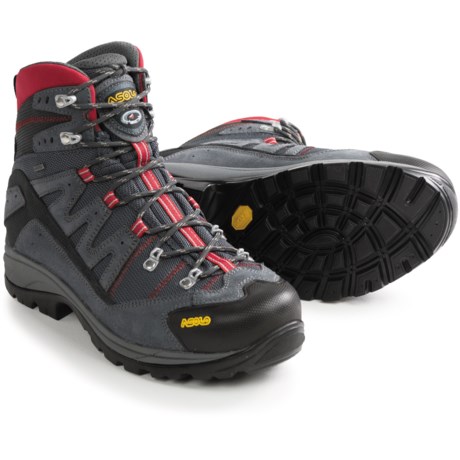 10.5,I suggest you to buy a slightly bigger shoes. if the shoes a little small. your feet will be hurt when you run downhill.


I wear anywhere from a 10.5 to an 11. I went with an 11 in this boot and I'm glad I did it fits very comfortably. I have two pairs of these and both feel the same in the 11.

Thanks for the 1st two answers. I'm normally a 10 in dress shoes and most boots. My 6 year old Meindle Taiga's (direct from Meindl, not through Cabelas) are US 11 but that's from a European (German) maker. European sizes always seem all over the place to me. Had similar thing with the old (and great) Sportiva M-Hike boots.

Well, I ordered 10.5 like STP suggested. Considered ordering 10, 10.5, 11 and keeping the pair that fit. Decided against it. Will post results of 10.5 length, width, volume when they arrive.

FWIW, my feet are on the low side of mid volume. Wish boot makers would go back to noting boot volume. Made it so much easier to order by mail.

My right foot measured 11.50 exact. I ordered 11.50 Asolo Neutrons. Had to send them back and order the size 12. They fit perfectly. Hope that helps.

the last used by ASOLO in the NEUTRON's fits me differently than earlier models (narrower - even in 'wide'.) I would order up to the larger size (if you are like me, your feet spread over the years.) if possible, try on some current ASOLO's in an outfitting store near you - E.M.S. , REI, etc. to get the sizing right. although I like these boots, they are the least comfortable of the many ASOLO wide's I have worn every day over the past 20 years. I would use cushy insoles and/or look at the FLAMES.

These boots fit true to size so if your right foot is a bit longer than your left which is very common I would order a half size larger to compensate. You can always test by walking around the house to make sure your not jamming your toes or there is to much slop with the opposite boot prior to wearing out on the trail.

I think you should try the 10.5 - you can always exchange them for the 10. STP is very good about size swapping. My husband wears a 9.5 shoe but for some reason in boots he always gets the 10 and is happier. That is what he did with these and they fit great. BTW - I have the girls version - which are identical and I have never hiked in such comfortable, TOTALLY WATERPROOF boots. First time out on the trail and I never even knew they were brand new! Enjoy them.

I tend to wear quality ankle socks with boots in the summer. Not really thick, but 1/2 the thickness of a thermal sock. These have been true to size so far. There is a lot of fabric, so it may be different than leather. I find leather that gets wet frequently, stretches more. Especially walking on side grades.

I wear 10.5 and with a thicker sock, the toe box is stuffed. Go for the 11, with thick socks to allow for your foot to swell while hiking. Always better to be a lil bit bigger than to be too small! Good luck!!

Hello,
I normally wear 9.5D to 10D. On this Asolo Neutron boots I use a 9.5D.
I measured the insole in the boots and it came up to a length of 11", but when the insole is in the boot it comes up to a length of 10 1/2".
For you I would order the 10D.
If for whatever reason this size is not just right, call their customer support. They are great and will get you an exchange with no problems. Just keep the tags on the boots and don't use them!

Here are pictures of the measurements...

Sorry for late response, recovering from auto accident (not my fault) -
I agree with STP. You should go with the 10.5 size.I wear either 10.5 or 11 but with thick socks I went for the 11 in these and it was fine.

Pete

After walking about 30kms, the buttoms of the shoes are broken and the top of the shoes also have small broken. These shoes are inventory products and its difficult to return and replace oversea. The after service not as good as I thought. These shoes are comfortable but only for one time use. I have bought two shoes of them. One is man another is for woman. I don't suggest foreigner to buy these shoes. Espeacaily Chinese. Bad after-service and they don't will to changed your bad ones with new shoes.