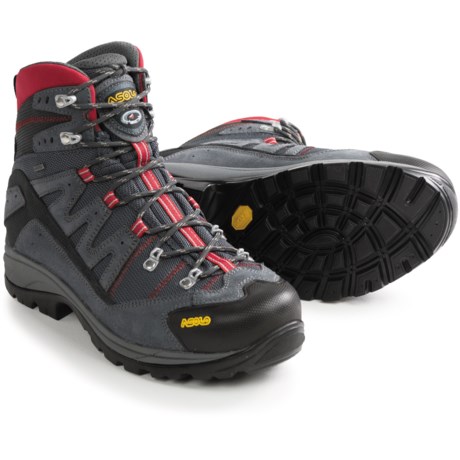 I suspect steel due to traveling with many over the years, but am not absolutely sure.

I remember seeing somewhere that these have a nylon shank I believe. I will say based on the weight I don't think it is steele.

In any regard with the Vibram outsole and EVA mid sole these boots feel plenty sturdy on any terrain and comfortable once quickly packed in. Did a few days in the Linville Gorge Wilderness with plenty rocks and they performed well.

I do suggest starting with the wide though, they run narrow. STP exchange policy is top notch, so no worries there.

In my opinion excellent boot at an excellent price.

I am not sure but you can go to asolo.com/en to learn about the boots from the manufacturer websit.

No but the toe is hard. I use these for my winter construction boots, and I love them.

No

No, this item is made with Asoflex lasting board.

A complete built in anti-torsion, anti-pronation, anti-supination plus other support and comfort designs built in to the lasting board, it doesn't have just a single "shank" mid-support, that area of the sole is stout with new technology layered lasts designed for specific duties like the light weight hikers to the mountaineering boots have a specific range of stiffness with support built in.

What I wrote previously, or check out their website, you should be happier when you find out, plus the original cost, and what you can get these for right here.

The have composite thank, I did not have broken in, the are comfortable out of the box.

Composite i believe

the consensus is they are not steel, however the vibram soles are very stiff and not as comfortable or easy to break in
as the good ole mainstay FSN 95/85's. if you havent worn asolo boots before, the Horizen seams to be the closest to the
FSN's. i returned my second pair of Neutron's to exchange for Horizens. Unless you have a very narrow foot, get the wide
width and wear a medium cushion sock and you should be able to wear them right out of the box.