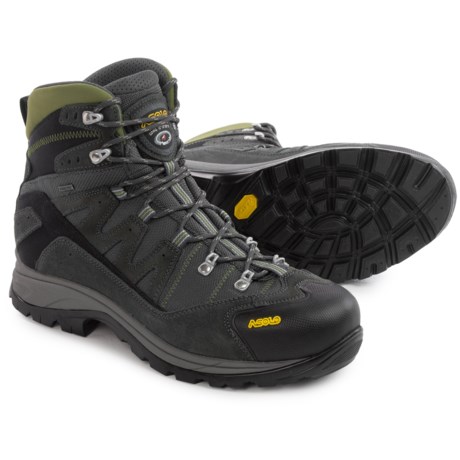 "Are goretex boots hot in the summer compared to non - goretex boots?
Thanks "
I have not noticed a great difference between goretex and non-goretex boots with regard to sweating, etc.YMMV.

Yes, they are, Paul. I still highly recommend these boots though.

Gore-Tex is a highly breathable waterproof material to keep you from getting too hot.

Actually an all weather boot, in the summer it's all about the socks, I suggest smartwool-medium to heavy for winter(depending on where you live) and medium to light weight for summer(again, depending on where you live)

The Gore-tex lining does make them somewhat less breathable (thus a little warmer). I still wear them all year round, and if you are doing any extended hikes where you need dry feet, waterproof is more important than cool. Asolos actually make my feet sweat less than many Gore-tex options.

Yes goretex boots are slightly warmer in the summer.

Hi Paul,

One of the nice things about gortex is that the material breathes. Since I live in Colorado, I can't say whether gortex would be hotter in summer, because it's generally cool in the higher mountains where I hike. I wear one pair of wick-dry socks, and have never had a problem with my feet getting hot.

gortex is briethable, but just got my first pair last month, herein new england and it's witer and cold. they are great boots though excellent qulity
Go! Patriots!