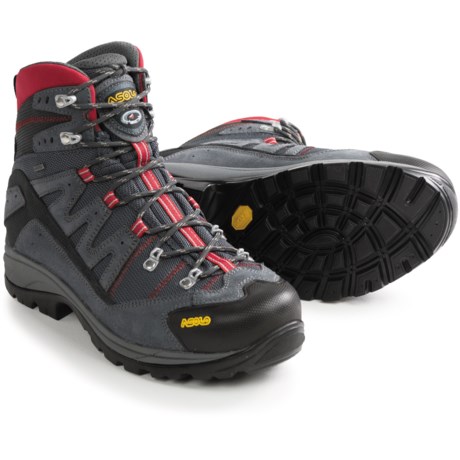 Good boot for flat terrain
Reviewed by Nick from Hawaii on Sunday, June 15, 2014
Bottom line up front: this is a good boot that performs best in flat terrain.

Appearance

A very attractive boot. Asolo brings some nice european styling to the trail!

Sizing

In street shoes I wear between a 9 1/2 and a 10. I purchased these in a 10 based on some reviews that it fits narrow. The out-of-the-box fit is perfect. Comfortable and snug in the ball of the foot with room to spare in the toe box and passed the kick test with flying colors: no contact with the toe of the boot and my actual toes. I wore them around my house with medium to light-weight hiking socks for a few hours with absolutely no complaints.

Performance:

On the trail, the lacing system does not lock the heel securely in place against the heel of the boot. This was noticed while descending at even mild grades and resulted in my toes slowly inching their way forward into the toe box, leading to eventual contact with the front wall of the boot. Re-lacing tighter resulted uncomfortable pressure against my shinbones. I have been on several hikes with this boot and that pressure has subsided, a bit; however, the problem with going downhill still remains: no matter how tightly I lace, my foot slides further into the toe box while descending and eventually my toes make contact with the boot. This is not a terrible thing if the hike is shorter than 2 miles or so; but anything beyond leads to discomfort and eventual pain.

Would a larger pair fix this issue? Doubtful, as mentioned above, I have plenty of room in the toe. I can kick a cement wall with some serious force and my toes don't touch. I would estimate there is anywhere from 1/2 to 3/4 of an inch of wiggle room in the toe. The problem is that the heel is not locked in place. As expressed, my opinion is that the lacing system is to blame.

The boot is seriously waterproof. I slogged along in puddles and some mud-bogs without a drop getting through.

The vibram sole is bullet-proof, yet its ability to self clean in muddy conditions leaves something to be desired. I walked for at least a mile on dry cement after hiking on a muddy trail and my tread was still substantially clogged when I arrived back at my car.

Great protection and support. On rocks and roots, I can step confidently as this boot provides superior ankle support. The sole is rigid enough to prevent me from feeling any sharp stones, but is flexible enough to not make me feel like I'm wearing a mountaineering boot.

At the end of the day, I give this boot 3 stars.




Similar items and more information in the following areas: