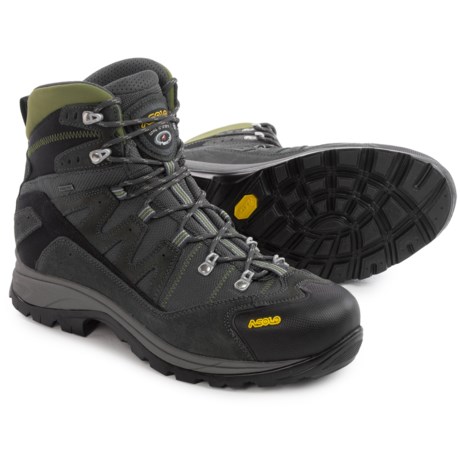 Amazing boots!
Verified Buyer
Reviewed by GL from Washington state on Monday, July 7, 2014
After a test "hike" with my new Asolo Neutrons carrying a 60 lb pack around my neighborhood that covers about 1 1/2 miles and maybe 300' of vertical with no hint of problems, I took them on a 10 mile & 4300' of vertical hike climbing Del Campo in Washington state. A little of the trail in was EXTREMELY steep & I did get some heel binding issues from my boot toes being rotated so far up. Off trail, on snow or down hill...no problems at all.
What I did different this boot buying time was, with the instructions on this site, I learned how to use the standard "Brannock Device" found at most shoe stores (& REI) to measure feet. I learned that my always size 12 feet were now both 12 1/2 with my hiking socks on and when shoe size is based on where the ball of my foot was (one of the measurements and an important one), I was 14 on my left foot and 12 1/2 on my right foot! I compromised with a size 13. My Asolo Powermatic 200's are size 12 & never fit all that well until (the famous) Dave Page resoled them. He did something magic and now they are fine....but heavy for many hikes.
Bottom line: measure your feet carefully in the afternoon (when they are biggest) with the socks you would use with your boots on. Something about the bad reviews for the Neutron I have seen here and elsewhere all seem to be due to not getting them fit right. (Not a flaw with the boots!) Another "trick" I recently learned is that when you are getting heel blisters, that doesn't necessarily mean lace your boots tighter to stop any heel slippage. Tighter can also just grind your heels harder against the boot. I tend to keep my laces a lot looser than I used to and wear good hiking socks. Play with your lacing technique to improve fit. I think that is why laces come longer...to allow double lacing at some points.
Beyond being very comfortable from the start, what I particularly like about the Neutrons is that they are a little over a pound lighter than my 200's! A very noticeable difference after miles on the trail.

Similar items and more information in the following areas: