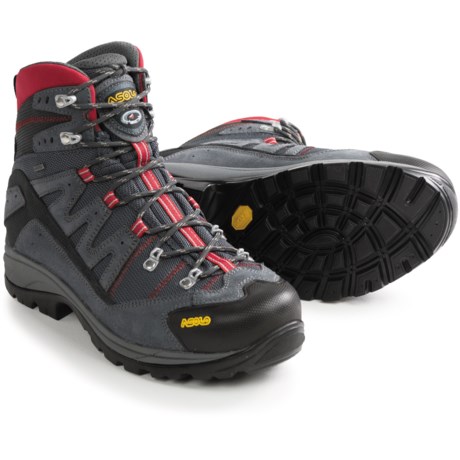 High structure at no cost to weight
Verified Buyer
Reviewed by JLo in the Mts from New Hampshire on Monday, November 10, 2014
Initially saw the Asolo Neutrons on a friend during a long trek in the Presidentails of NH. They caught my eye because they looked sturdy and sharp. He had recently purchased them here, and seemed to love them. I researched a few options and went for these as well. First off, getting Goretex boots for this price is hard to do, a big motivator on wanting to try them out. I'm usually a 12.5 in shoes, but my past hiking boots have been 12, and so I went with the 12 on the Neutron. My feet are also a bit wide in some brands, so I went with the Wide fit as well (the first time I've done that for a boot).
My first hike with them was a quick 5 miler locally, and the new boots are making me very happy. They are very light for how structured they are. I love the lace system, and was able to get them good and snug right away. I felt nimble in these compared to my Merrels of the past two years. Also notable is the toe box; its extremely reinforced and won't be giving anyone worries of stubs. I could tell that this does come at the cost of loss of flexibility on the front of the boot, but it's a change I like thus far. The sole is also extremely thick and supportive, and with good traction up a number of damp rock faces (some already a bit frosty!). Overall, they feel like a pair of really light, very reinforced boots. While the structure comes with a bit less flexibility and sensitivity to the ground underneath your foot, I think they're going to be an excellent boot for longer hikes in all conditions.
Around mile 4 on the first outing I began to feel the expected rub above me heels, part of the break in period, and won't be a problem once they're conditioned to the shape of my foot overtime.
Very pleased with this online boot purchase, something I'm usually hesitant to do!
Similar items and more information in the following areas: