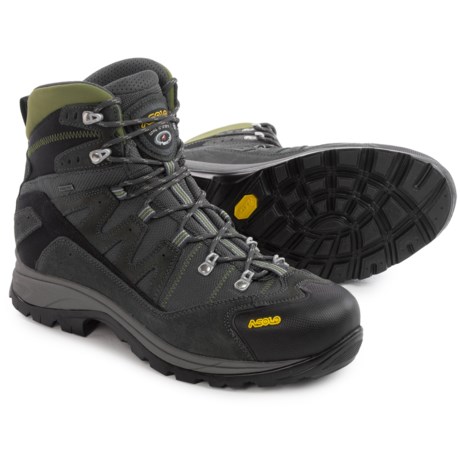 The Originasl are a better fit...But they still need a better grip sole!
Reviewed by Back to Snowy Trails from Washington on Thursday, December 11, 2014
I'm totally a Asolo boot wearer' after many years of trying other competitive boots. Until' i bought these boots' this is not a true negative review but there are some issues that these Asolo manufacturers have to know ( that is if they read Sierra reviews) about this existing boot. So here are my negative points..1) A flexible mesh top that doesn't hold it's fit to the foot. ( lot of movement). 2) They have a excessive boot lace' that I recommend Asolo manufacturers add a larger top eye hook to accommodate the extra lacing' eliminating branch snags from dangling laces. 3) Here is a good complaint. I wear these boots and other Asolo's and can tell you the supposedly grippy outer sole is a bunch of you know what' and let me tell you why. If it's raining or your in a wet environment' don't step on and any steel plates like they have on side walks' you will find yourself with a leg up in the air trying to regain your balance. Ice forget it' you are definitely going to break a tail bone. Hiking' another problem with these track grips' don't step on any slimy stumps or branches your asking for a injured leg. Boots in this category need better gripping soles for hikers. I do do the Alpine trail for 25-40 miles yearly. So I do and will back up this review from a extensive hiker. Did i mention slippy rocks?
The Originals without the mesh are a great fitting boot' no flex' easy slip on and off it has all the characteristics mentioned for this boot' Gore tex. Waterproof and all the other good stuff. But i need to repeat to the manufacturers' Fix the Soles-add a larger top lace hook. Mean time I'm going to wear these out ( Nuetron and FSN 95 GTX ) I they don't make any changes' they lost a good customer.
Similar items and more information in the following areas: