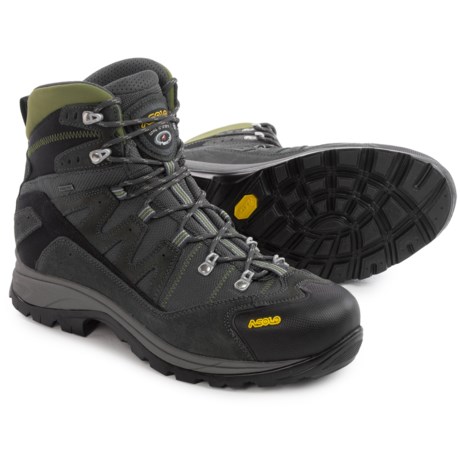 Excellent boots, fantastic price. Requires a new insole to be a terrific boot.
Reviewed by Mercaptan from Washington on Monday, March 27, 2017
I feel like I have to write a review for these boots - so strap in. I bought these boots in May of 2015, and since that date I have hiked 580 miles with them, including a whopping 200,000 vertical feet gain (400,000 feet total).

I needed a boot that was lightweight, decent stiffness for backpacking, rigid sole for low-angle snow, and waterproofness for streams and snow. This boot fulfills all those criteria and then some. I've used them backpacking, scrambling, and even some light-mountaineering (North Cascades volcanoes).

1) Materials and construction of upper:
- Boot has the right materials where you want them. The rubber rand on the toes protects the boot and is stiff enough to kick steps in snow. The leather parts seem cheap but hold up decently well, and the nylon upper is quite nice and lightweight. The two upper lace lashes work well, though. The midsole is stiff, and probably a 3/4 length shank. Anyway, it's rigid enough for kicking steps in snow and works OK with a semi-flexible crampon (Grivel with flex-bar). Breathability of the upper isn't great, but if you want a waterproof boot that is a necessary evil. The boots are, however, fantastically waterproof. I have never had an issue while being on snow or wading through water. The boots have kept my feet dry unless snow or water got in over the top of the cuff - I'm highly impressed.

2) The outer sole:
- The Vibram sole is decent quality, and actually one of the few detracting points from the boot. The edge is decent enough to cut into snow as well. In general applications, the rubber outersole works well, but in wet conditions (rock) I have noticed decidedly poor purchase. I have slipped a few times where I thought I should otherwise have good grip, typically during class II scrambles. On dry rock, gravel, and general trail work, the grip is fantastic. Again, I have used crampons with these boots as well as micro-spikes.

3) The insole:
- Here's where we get the 4 stars. The stock insole on these boots is terrible. Horrific. It's thin and provides absolutely zero support. Boots at this pricepoint should come with a serviceable insole, and these Neutrons DO NOT. My suggestion - if you plan on keeping the boots, replace the insole immediately with any of your preferred choices from Superfeet/Sole/whatever. I used a pair of SuperGreen insoles and they have worked great and increasing the comfort and fit of the boot while keeping down vibration and knock.

4) Ankle Support:
- The boot provides great support from light hiking through using a 45lb pack in my experience. My experience is mostly trail work, some snow field, and some scrambling. The laces are adequate and do the job.

5) Fit:
- They fit well enough for me, but I have a more narrow foot with a strongly-defined heel. Heel slip was an issue, initially, until I fixed with a new insole and had the heel cup modified by a bootsmith to reduce heel-slip. Check with your local cobbler about this possibility, given the thermoplastic construction. Asolo does tend to run narrow, which is something I wanted. If you have wider feet, probably best to seek out a pair of Lowas, Vasques, or Merrells. Proper break-in of this boot took maybe... 20 miles? Thanks to the mostly nylon upper, it should break in quickly and easily relative to leather boots, especially those with single-piece uppers.

So how are they holding up after 2 years?
Better than expected, to be honest. The soles are a bit worn down and I will need to replace the boots after another year of service. Three years for a pair of boots with this usage is phenomenal. I have had to re-waterproof the boots using Nikwax products, and do this about every 6 months. One of the leather supports for the open-eyelet has torn off from bad stitching, but it doesn't impact the fit or rigidity of the boot. Some other stitching has come undone near the toebox, but I again expect this kind of wear and tear. This does not appear to affect the waterproof integrity of the boot.

What would I fix?
Better rubber compound in the sole for wet traction, better stitching on the upper, and add a much better insole.
Most helpful negative reviews
Similar items and more information in the following areas: