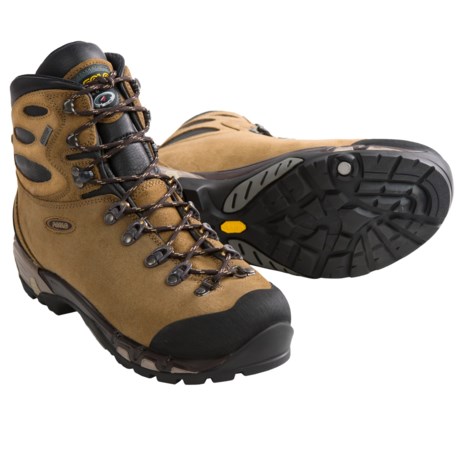 I have not worn my Power Matic 100s over the summer yet so I can't say for certain they are not hot. However, I can say I own seven pairs of Asolos and none of them have ever been too hot. Please note that I wear nothing but merino wool socks year round and feel this helps with moisure and temperature regulation as well as the breathabilty of the boot.

Hi Sharon,
I think you are right in saying the Neutrons might be slightly better in the hot weather and maybe slightly lighter but the power matic in my opinion are a better heavy duty boot. They will handle most conditions where I think the Neutron will fall apart in the wet muddy conditions. I was like you and couldnt decide between a full leather boot and a composite boot like the Neutron so I brought both and the full leather boot lasted twice as long. I live in my boots pretty much every day of the year and I love the goretex so the only time your feet get wet is if the water goes over the top of your boot. We are in our summer now and it is 30 degrees Celsius and my feet dont sweet in the boots not like the old fashion leather boots. I hope that helps

Both shoe has no big difference in breathabilty of whole boot. Fabric shows less durable waterproof function than all leather. (method of waterproof treatment between fabric & leather are different.)
Additionally mud can be more easily removed on leather than fabric.
So I would like to recommend to choose Power matic.

For your reference.
I worked Goretex footwear tect team for 12years as an product support. Per my experience, warmth of shoe is mostly decided by rooms of inside shoe. So please choose boot having enough inside room. Go shop. - Wear winter sock. - Try target boot. - Stand on slope & check weather touch toe end to inside shoe - Choose not touch boot.
This size will guarantee enough room of boot. Use thin sock when actual use Under hot weather.
Also clean boot after use, &do waterproof treat after 20 ttimes use. Hope this help your choice. Have good day always.

I live near in San Francisco and hike the Bay Area hills. They are fine boots for rain and mud. For heat I think it depends on how hot...I get some heat rash when it is real warm but I am used to lower temperatures. I don't know about the Neutrons but think most things are trade offs. Overall these boots are good for every weather and very sturdy.

They're good in wet and mud at keeping my feet dry. The sole is great on rocky terrain. I haven't had them long enough to wear in hot weather but they sure are comfortable. I don't know anything about the Neutrons.


I purchased two pair of the Asolo Power Matic boots. I was surprised to find that my feet did not get sweaty in them like they did in other "Waterproof" boots. I use them for hunting and wearing to work on snowy days. They did not get wet in the very muddy conditions in the Texas panhandle goose hunt. They did build up mud like a mud magnet! So did my rubber bottomed paks, for that matter.

Constructions that use quite a bit of fabric simply cannot compare with full leather construction when it comes to water proofing capability. Full leather construction, however, cannot compare with fabric construction when it comes to breatheability. Relatively speaking, there's no such a thing as super water proofing capability with very good breatheability. It really depends on your priority and your environment. Leather is much easier to clean and a lot more durable also. Is this particular boot going to be hot to wear in the summer? I've no doubt it's going to be hot! That's why I don't wear this boot everyday. But I will wear it on a hike, even in the summer.

While I am in Wyoming right now I spend about 5 months a year in Louisiana. I have owned both these and Asolo Neutrons. Both are great and will remain waterproof. Of course the more mud and water you are in the more damage you do. I ran a very extensive irrigation system wearing the Neutrons a couple of summers ago that required me to be in water daily for 5 months. The Neutrons only lasted the Summer. This was extremely Harsh! I don't believe anything but rubber boots would have held up longer. I preferred the comfort. The Neutrons would probably be cooler and I would prefer them in Louisiana.

I've got a pair of both the Asolo Power Matic 100 and the Neutron. The Power Matic is a heavy mountain boot and is great. However, based on your described usage I would go with the Neutron's. They are much lighter, more breathable and very impervious to very wet conditions. The Neutrons also dry much faster than a totally soaked Power Matic. Good luck.

Any of the asolo products will be good for rainy/muddy conditions. The Power Matics are taller than the Neutrons. They are also a heavier boot. Some of the Neutrons are goretex lined like the Powermatic, and some are not. The non-goretex neutrons would have significant issues in the wet conditions you describe.

I have worn many different goretex asolo boots in the field on research projects and I have yet to have any issues with the cordura fabrics having issues with wet conditions over the leather. In some ways they are superior because they dry faster than the leather versions. A good pair of wool socks with either should do fine. If you are in seriously rugged rocky terrain then perhaps the Power Matics are the best choice. if not and especially in warmer weather the goretex Neutrons may breath better. If you choose the Neutrons just make sure they are the goretex versions. Hope that helps.

I have found with the Power Matic boots that wet weather, mud, snow and slush do nothing to slow these fabulous boots down. Since the exterior is leather over the Gore-Tex, it is my opinion that treating the leather with mink oil will significantly improve the life of the boots. There are many leather treatment options out there, but mink oil gives leathers at least double their normal life in the roughest of conditions. I decided on the Power Matics over the Nuetrons and couldn't be happier!

I love my Asolo's as they breathe nicely and, being 70 with fussy feet, are easy to take on and office and lace tightly. I would certainly buy them again. I have NOT tried the Power Matic's in warm, rainy/muddy conditions. When the weather is not icy, I wear the Power Matic's. When it is cold and icy I wear my leather Asolo's. I don't think you can go wrong what the Power Matics, especially at Sierra prices.

I think you need to observe the old saying "A muddy day is better met by those that don't mind getting wet"!

There is going to be good and bad either way...you ought to pick one and experiment w/ it. Over time you'll develop a routine and preference.

Nubuck and Fabric are both going to give you issues with staining in mud. Muddy boots don't breath well, no matter what they are constructed of.

If you do choose the powermatics, seal them frequently with your choice of conditioner/sealer. I used Obenauf's LP even though some said it's not meant for nubuck. I'm very happy with the result and stains from mud seem easier to release. This is because the leather is now less nappy so mud doesn't stick to it and absorb in as readily. The color did darken up, which is great (see pic).

Mud is tough on all boots. It requires a vigilant owner though to cancel out the ill effects.

Powermatic is a great boot. It runs hot. They are heavy, stable and supportive for rough terrain. Waterproofing is excellent. If the weight is too much, they have other models with Goretex waterproofing...Spyre, Synchro and Symbio...they are lighter weight but still great boots.