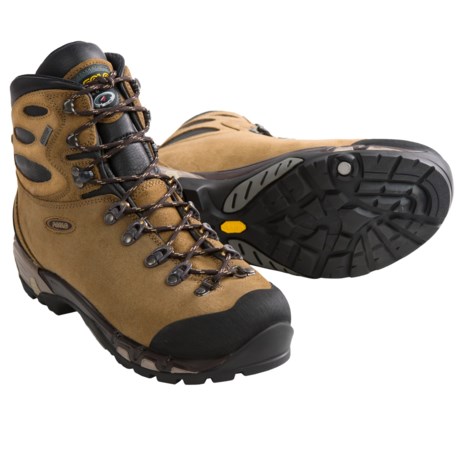 They are good to go out of the box.

Mine were good to go right out of the box! I've had mine a few months and still have not treated them yet. I have the same pair you do, I also own the Moran boot as well. I used Nikwax on the Moran's and it worked well, you won't be disappointed with them.

No need. The water just falls off the leather. Been using them at work all winter in Colorado at work.

I used kg-streamed by boot guard. Two coats and the boots feel great.

Leather conditioner is a personal preference based on what you use your boots for. If you plan to trudge through rain, snow, mud and sludge then a good heavy duty treatment of mink oil is a good recommendation for them. If you are in a dry rocky climate and plan to just hike through rocks and trails, you may want to just condition the leather so they can be easily cleaned for the next hike. The leather on these boots provide great protection for the Gore-Tex underneath and I personally like to condition my leather outer wear with Angelus Brand liquid mink oil compound. Mink oil will darken lighter leathers, but it will protect your leather products and easily triple their lifespan!

Use them right out of the box. Asolo and Goretex did a great job already. I got mine in December and they still look great and are water proof as advertised after over 20 river crossings of varying depths and widths and pretty harsh conditions. Clean them up with a bristle brush when dirty and depending on use, once or twice a year you can fortify with a fresh spray-on waterproofer. As for conditioners and such, I don't know what that is for. I don't know if that would deplete the effect of the Gortex initially but could be a good treatment for much later. Hope this helps.

These boots are great. The boots are Gore-Tex so you don't have to worry about dwr treatment and they should be good to go right out of the box in that sense without any special care or maintenance. It didn't take me very long to get them broke in and ready for real abuse out in the back country with rain to down pours, mud, rocks and whatever the mountain terrain can throw at you. They have held up great with no leaks or rips. When I do use a treatment for the leather it's usually Huberd's Shoe Grease (work the grease in with a tooth brush) or Obenauf's Leather Oil. These also help to shed water, but the boots are Gore-Tex. Either one works good and they both contain natural oils( No animal fats, synthetic or petroleum, which will eventually break down thread and leather fibers) and wax. For just a standard conditioner I use Bee Natural( the Only oil I use on my horse saddles). I've used Bee Natural on my power matic's just to help get the leather a little more flexible and soft, since this oil really soaks in and penetrates the leather fibers. Hope this helps you out and gives you some options to make your own choice.

Normally all materials of Goretex shoe has proper w/p or w/r treatment when it is sold. So you dont need to any treatment at break in stage. Simply clean shoe after use it.

After 10 times use if leather become partially absorb water during use it, do w/p spray on leather & dry it under shadow.

Per every 1 year use conditioner on leather after w/p spray treatment.

I'm just wearing mine (2nd pair) and they've been wet a few times already. Mine have adequate waterproofing on the upper out of the box.

You may want to use something like Nikwax when they start to show some absorption later on but I wouldn't worry about it while they're new.

To be honest I have not used them but bought them because they were almost identical to my previous two pairs which were of the same material. I never bothered conditioning them before but just cleaned them of the inside debris from small rocks, washed the insert sole cushion and with water and brush scrubbed the outside lightly to keep them clean for my next hike...I would say they are maintenance free really...

So I will give you two recommendations. I would definitely treat the boots before they start getting dirty. My understanding is that if you hit them before you use them, future treatments won't lock in the soaked in filth.
I may not be the best person for recommending treatments, because I am pretty hard core and don't care how they look so much as how they function. So I treated with full blown waterproofing. I used Biwelt, the Austrian beeswax concoction. I read from a boot authority that treating the leather to make it waterproof would keep the leather from soaking with water even though the Gortex liner is keeping them waterproof for your feet. As a result, the boots are dryer and breath better. It made sense to me. The downside of the full blown waterproofing is that the nubuck look is lost and the leather darkens. For me, the boots actually look better and more rugged, but I realize they look awfully nice out of the box. I figure that after serious hiking the nubuck will smooth out anyway, so I went with more protection. You can always get some Nikwax made for suede and nubuck to keep the look, and it will give most of the benefits of the more durable treatment.
My feet are well suited to Asolo boots, but just the same I was amazed at how comfortable such a stiff and sturdy boot could be. No significant breaking in issues. Good luck!

Hi. They are good to go out of the box. Wear them to work or at much as you can before you take them out on a backpacking trip. Great purchase!