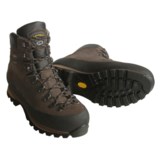 Closeouts.With a tough nubuck upper, Gore-Tex® waterproof breathable membrane and Vibram® rubber outsole, Asolo's Sasslong backpacking boots thrive under heavy loads in rugged backcountry terrain.
Average Rating based on
991
reviews
4.535822
0
5
Reviewed by Alaskan Average from Alaska on Thursday, March 31, 2016

The Sasslongs come highly recommended from many folks already but I would like to join their ranks in saying that this boot is great. I have owned the same pair of Sasslongs for 4 years and recently looked at getting a new pair of Asolo Power Matics but couldn't bring myself to do it because the Sasslongs are still in such great shape.
The soles are still well adhered to the boot and although worn have plenty of tread on them. The leather, aside from a couple minor scuff marks, I'm sure will outlast the sole of the boot. The most wear and tear this boot has is a minor bit of adhesion loss at the seams of the rubber that wraps around the boot. I even still have the same pair of laces that it came with!
Now, how do I use the boot? Maybe they just sit in my closet and wait for the occasional day hike? No, they are used with purpose. This boot has been my go to, my old faithful, my rock for just about every activity that I have done over the last four years. Every day use from trips to the grocery store, walking the dog, long drives, even airplane rides (they're comfy) to day hikes, overnights, hunting trips, winter hiking, winter hiking with crampons and carrying HEAVY loads. I've lead the way up steep slopes in the Chugach kicking holes in the snow for footing and hand holds as others boots were too soft. Strapped crampons on and made my way up icy rocky and windblown slopes. Put on a backpack and gone cross country for nights under the sky. Hiked across moraine, through swamps, woods, mud, creeks, snow, slush, carried Caribou meat and packed out a 104 pound raft for 1.5 miles with these boots on my feet. After 4 years if I want to go somewhere, they're the first pair of footwear I look too.
So why not that 5th star? I bought these boots right alongside another pair of Asolo boots, I believe it was the Fugitive GTX or similar. I hardly use those. However, right out of the box the other boot was significantly more comfortable and I wore them more frequently for about the first month, probably due to the wide toe box as opposed to the narrow I got in the Sasslong. It became apparent pretty quickly that comfort had it's downsides, the other boot was softer and didn't offer as much support so I began the quest to break in the Sasslongs. It didn't take long, once I decided to swap to Superfeet insoles, I consider this a must and also part of the reason they don't get the 5th star. It did take a little time getting used to the narrow toe box, no fault of the boots, maybe I should've gotten a wide, but ever since they have been great. When I do get another pair I will get the wide toe box to more comfortably accommodate a medium thickness wool sock. As of now the minimum temperature I will wear these boots is 10 degrees (not really what they're designed for) while constantly moving, which is still awesome!
Thus concludes my Ode to the Sasslongs with a final word, if you want a boot to USE get these boots. If you want a boot to use, you should shop for something else.

Verified Buyer

Reviewed by clifford from montana on Monday, September 1, 2014

great boot. sometimes rubs a little in the heel but 2 years on em and wearing good and just got back from a 2 day non stop rain trip and with gaiters my boots stayed dry.

Verified Buyer

Reviewed by M White from Washington on Saturday, June 7, 2014

This boot is iron tough, Completely waterproof, Great foot bed - I have very expensive custom orthoditics and don't need them in these boots - Hardwere and material is all first rate.. The stability laced in to the Sasslong is very firm - no ankle sprangs here- Would cosider these boots up to the task for heavy backpacking and even more. The fit is spot on, And I purchased a 2nd pair just yo put up for replacement if the first ones ever wear out. Love this boot!

Verified Buyer

Reviewed by Jack from Colorado Springs on Monday, May 26, 2014

These were bought to do erosion mitigation after the Waldo Canyon fire so the time is spent working on unstable terrain some of which is very steep. Spending time in the burn area my footing has been good, they are comfortable and have spent up to seven hours a day working in them. Did one hike of about 5 miles just to use them and all was well.

Haven't tested them in water so no opinion on that, the laces stay secure once tied, hopefully they can last until the mitigation process is done. At this point no complaints.

Reviewed by Dalar from Ukraine on Thursday, May 15, 2014

Very good quality of boot!!!

Verified Buyer

Reviewed by Newbie hiker from C falls Montana on Thursday, May 15, 2014

Solid and comfortable.

Verified Buyer

Reviewed by JB in Fairbanks from Alaska on Wednesday, May 14, 2014

Great fit, very comfortable, good support . I hope to walk out heavy this coming Alaska hunting season.

Verified Buyer

Reviewed by matt from oregon on Monday, May 12, 2014

The comfort right out of the box is great. It is a very stiff boot so that takes some breaking in and getting used to but I prefer a stiffer boot. I do wish it was a bit taller with a little more ankle articulation front and back but more ankle support is better than too little. All in all these are great boots.

Verified Buyer

Reviewed by John High Sierra from Northern California on Monday, May 5, 2014

This is a well designed well built heavy backpacking boot. I ordered one half size up (11 instead of 10.5) and a wide width. The boots were much too narrow for my feet. These boots, even the wide widths, are extremely narrow boots. The Vibram soles are also remarkably narrow. These are high quality boots if you have narrower feet. As a basis for comparison, when I realized that these boots were too narrow for my feet I ordered from STP one pair of 11.5 Wide Asolo Goretex Powermatic 100 backpacking boots as replacements for the too narrow Sasslong boots. The Powermatic 100 boots were a more typical width and fit my feet well with a minimum break in requirement. The Powermatic 100's are a great value with current STP pricing. ALSO, I recently ordered from STP one pair of Asolo Neutron Goretex 11.5 Wide hiking boots. The Neutrons are well built and fit my feet well. For summer use I have also ordered one pair of Asolo non-goretex Neutron 11.5 Wide hiking boots. Asolo has a design and specification problem with the Sasslong boots, which is a real shame because they are such high quality well made boots. Again, I highly recommend STP for Asolo Goretex Powermatic 100 hiking boots and for Asolo Neutron hiking boots. The Sasslong model boots are too narrow for people who need a wide boot.

Verified Buyer

Reviewed by justanaveragejoe from northern minnesota on Tuesday, April 29, 2014

This boot is very well constructed, heavy duty and will last a long time. Good for dayhikes, but stiff enough for multi day hikes. I have worn mine comfortably in 30° temps for 3-4 hours with a mid-weight hi-perf sock. I also wear them as everyday boots. Buy two pair if you can. You will likem that much!