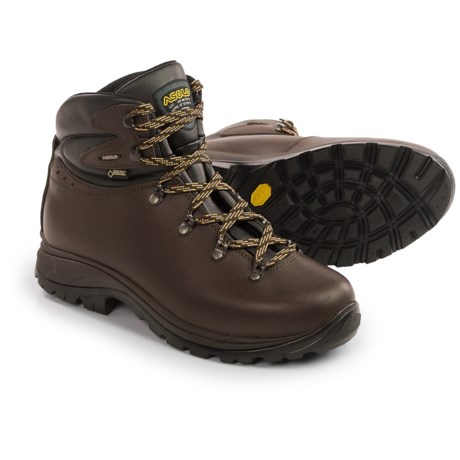 XLNT LIGHT TO MODERATE HIKING BOOT WITH TOP FEATURES
Reviewed by johnnyjohnny from lake balboa calif on Wednesday, February 10, 2016
ok, i'm a bootnut. just in the sphere of hiking boots i have a half dozen of the best out there, just about all in the expensive heavy duty/full on category. Hanwag, Alico, Haix, Danner, etc.

i did not need another classic boot for heavier duty hiking or backpacking, but when i saw this beautifully designed pure hiking/trekking boot, that was one i could go for. after checking out the specs, such as very light but rugged construction, gortex, great lacing system, vibram sole, classic alpine design, i bit. that these were made by Asolo, a hugely reputable company in this gear, didn't hurt.

very happy i did! these are indeed light and comfortable. strong leather, not uncomfortable but definitely the requisite stiffness out of the box that will break in with use. heavenly to use lacing system...i know these only have 6 hooks, and as lighter hiking boots don't need the heel anchor metal loop normally set back toward the heel...but even with that you wouldn't expect any boot to lace up so easily and with such micro fit with no fussing! looks are tremendous, and more so since the technical aspects live up to the looks.

fit? i think these are perhaps the best fitting out of the box of any euro-made boot i have from the brands mentioned above. THAT might be because my foot, while not narrow, is not perhaps as wide as most hiking boots expect. so, if there is any caveat i'd say, if your foot is wider, don't see if you can finesse it...go for the wide version (which this boot has).

normally i don't use most of my boots for strict trail hiking...but they get a full range workout on movie studio lots where there's everything from chunks of concrete, to wood, normal asphalt, etc...and also on photo hikes which can go through rough terrain, but generally are up and down every part of a city, climbing in places i shouldn't really go. none of my heavy hiking boots have any sort of problem under that use, and i can see these will neither, but promise to be a bit lighter. i love wearing heavy boots, but on a day where i'll also be driving quite a bit, the lighter boot is a great option.

and these do it. i love these. from the technical qualities, to the looks, to the feel.


Most helpful positive reviews
Most helpful negative reviews
Similar items and more information in the following areas: