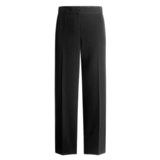 Closeouts. These Modern Fit, flat front pants from Atelier have a soft, smooth hand and wrinkle-resistant drape — reason enough to add two or three pairs to your career wardrobe.
Fabric is a midweight gabardine weave
2" waistband
Zip front and two-button closure
Smooth welted back pockets
Straight leg
Rise: Just below waist
Inseam: Regular 34" Petite 33"
Leg opening: 20"
Care: Machine wash/dry
Closeouts. China.
Average Rating based on
16
reviews
4.125000
0
5
Verified Buyer

Reviewed by Sarah from Portland, OR on Friday, February 5, 2010

Size was very large and the length too short for my preferences, but otherwise a nice pair of pants.

Best Uses: Casual Wear, Wear To Work
Cons: Too short
Describe Yourself: Classic
Length: Feels too short
Pros: Comfortable
Waist: Feels too big

Verified Buyer

Reviewed by Lindy from Cheyenne on Thursday, January 21, 2010

I am wearing these pants today to work, and they fit well and look professional. I have also worn them to a semi-formal dinner with a dressy top, and they also fit in perfectly. I do wish they hadn't been so long, as the seamstress's fees added considerably to the cost.

Best Uses: Casual Wear, Night Out, Special Occasions, Wear To Work
Describe Yourself: Bargain Shopper, Career, Classic
Length: Feels too long
Pros: Comfortable, Flattering, High Quality, Versatile
Waist: Feels true to size

Verified Buyer

Reviewed by Jenn from PA on Monday, January 4, 2010

these fit great. I washed in my washer's hand-wash cycle and line dried and they came out great! What a bargain!

Best Uses: Night Out, Wear To Work
Describe Yourself: Bargain Shopper
Length: Feels true to length
Pros: Breathable, Comfortable, Flattering, High Quality, Stylish, Versatile
Waist: Feels true to size

Verified Buyer

Reviewed by sportyshorty from Denver, CO on Sunday, January 3, 2010

Even though these pants are described as petite, the inseam is not much different for petite and regular. At least in the blurb the length is specified, so you know what you're getting into. I'm 5'1" tall, so had to hem the pants before I could wear them, a hated task. Other than that, they fit the bill. They drape well, don't wrinkle much, and are great for wearing to work as well as more casual wear. I also like the low waist--adds to the drape and comfort.

Best Uses: Casual Wear, Wear To Work
Describe Yourself: Bargain Shopper, Career, Casual
Length: Feels too long
Pros: Stylish, Versatile
Waist: Feels true to size

Verified Buyer

Reviewed by Oblivia from San Francisco on Sunday, November 15, 2009

Order one size smaller. I also had to have them taken up 1 inch in the hem. Great for travel. Very comfortable, holds shape, and no wrinkles.

Best Uses: Casual Wear, Night Out, Travel
Describe Yourself: Bargain Shopper, Casual, Classic
Length: Feels too long
Pros: Breathable, Comfortable, Flattering, High Quality, Stylish, Versatile
Waist: Feels too big

Verified Buyer

Reviewed by Polyanna from New Haven, CT on Wednesday, November 4, 2009

received a 12 which I ordered and changed it to a 10which was perfect in all ways. [...]

Best Uses: Casual Wear, Night Out, Special Occasions, Versatile and staple, Wear To Work
Describe Yourself: Bargain Shopper, Career, Casual, Classic, Eclectic, Funky too, Sexy, Trendy
Length: Feels true to length
Pros: Breathable, Comfortable, Flattering, Great item, High Quality, Stylish, Versatile
Waist: Feels true to size

Verified Buyer

Reviewed by tupperbetty from GA on Wednesday, September 23, 2009

These pants seem like they would be good but are just too big for me. I like the longer length as I have long legs and a short torso. Very full legs make them impractible for me.

Best Uses: Night Out, Wear To Work
Describe Yourself: Bargain Shopper, Casual
Length: Feels true to length
Pros: Breathable, Comfortable, Flattering
Waist: Feels too big

Verified Buyer

Reviewed by 3dvizwiz from Boulder, CO on Monday, September 21, 2009

Most Atelier products seem to run a full size larger than what I need, so I just order a full size smaller, and things fit just fine. This was the case for these lovely slacks. I'm quite pleased with them - comfortable, flattering, fit fine as ordered, and easy care to boot.

Best Uses: Wear To Work
Describe Yourself: Bargain Shopper, Career
Length: Feels true to length
Pros: Breathable, Comfortable, Flattering, High Quality, Stylish, Versatile
Waist: Feels true to size

Verified Buyer

Reviewed by Beth on the coast from DE on Wednesday, September 16, 2009

Always looking for easy to wear and easy to care for clothing. These pants are just that.

Best Uses: Casual Wear, Wear To Work
Describe Yourself: Bargain Shopper, Career, Eclectic
Length: Feels too long
Pros: Breathable, Comfortable, Flattering, High Quality, Stylish, Versatile
Waist: Feels true to size

Verified Buyer

Reviewed by DB from IA from Coralville Iowa on Sunday, September 6, 2009

These pants were quite long and ran large but taking all that into account, I still liked them and was satisfied to have them altered for length.

Best Uses: Wear To Work
Describe Yourself: Casual
Length: Feels too long
Pros: Comfortable, Flattering, High Quality