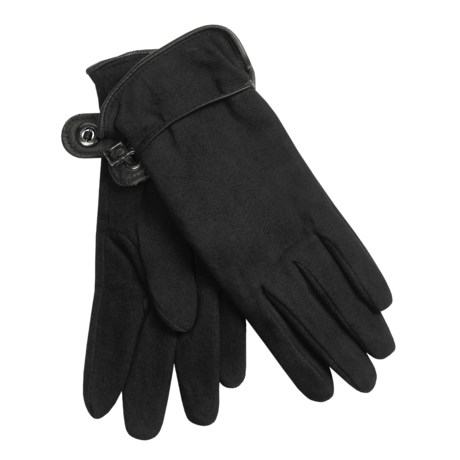 I have purchased sevral of these and the lining is an micro fabric. very soft, very warm fit nicely.

It's a polyester (polyfleece) that looks like wool fleece. I find these gloves very warm. It's been single digits in the morning when I walk to work and my hands have remained toasty. They do seem to block the wind which also helps a lot. I consider these my "urban" gloves, I would not use them for outdoor winter sports since they would absorb water.

Unfortunately I cannot actually check on the gloves since, even though I bought 3 pair for myself, I lost all of them. If I recall correctly, the lining was made from wool (may have even been cashmere). I found them to be sufficiently warm here in the frigid Northeast but I do not stay outdoors for more than one hour at a time. They are beautiful gloves made of very soft leather. I will buy another pair for myself. Also bought already 3 pair for gifts and everybody loved them.

The lining is Polyesther. They are excellent driving gloves but they are not warm in frigid weather.

polyfleece as described in the ad, the gloves are lovely, soft and warm

They are lined with a polyester fleece, fairly thin. I would not expect them to keep my hands warm for extended periods of time in very cold weather (my hands get cold easily, and for that weather I use mittens, not even fattly padded gloves). But they are soft and elegant. Dress gloves, and a bit warmer than regular lined leather, but not a lot.

they are ok, but not too warm

According to the product overview/specs above: Soft polyfleece lining


Soft, THIN poly fleece lining in soft, THIN suede. I'm in Minnesota, and can vouch for their NOT being warm enough for frigid weather. For long dog walks, I consider them fall and early spring gloves-- down to about 25°F. Good driving gloves, but on the coldest days your hands will be cold in these until the heater gets going.