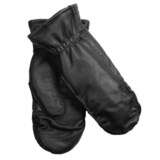 Closeouts. It's a glove! It's a mitten! Snuggle your fingers into the ingenious design of Auclair's Moccasin Finger sheepskin mitt.
Average Rating based on
71
reviews
4.112676
0
5
Verified Buyer

Reviewed by oesjane from South Dakota on Monday, August 15, 2016

This is my second pair. They are perfect for me. I will always have these for winter

Verified Buyer

Reviewed by Rose from Glen Ellyn, IL on Monday, January 18, 2016

These are great for moderately cold days. They are very comfortable and look nice.

Verified Buyer

Reviewed by Pyewacket from New England on Friday, January 15, 2016

I have purchased many pairs of these mittens in different colors as gifts and for my own use. They do run a bit small, so i just go up one size, but they also stretch a bit as they are worn. They are the warmest and most comfortable hand coverings ever, and the leather grips the steering wheel making driving much easier.

Reviewed by BBLR from Minneapolis on Saturday, January 9, 2016

I really wanted to love these mittens and ended up liking them quite a bit. On the plus side, they are surprisingly warm, especially compared to comparable leather gloves. I also love that they are slightly more elegant than standard mittens. The downside is that they wore out VERY quickly. I got mine in the middle of last winter, and wore them sporadically that season and this one [It was a cold winter last year, so I used my ski gloves more often]. it's early January, and they have been looking dingy for awhile. And this week, I caught one in the door handle to my car, not very hard, and tore a hole in it. And the leather is SO thin that there is no way they can be repaired. So, they're ruined. While I really liked them while they lasted, the fact that I didn't get even one season of sporadic wear out of them makes them a very poor value.

Oh, and they run small, but do break in quite quickly (probably because the leather is so thin).

Verified Buyer

Reviewed by Laura Lan from PA on Saturday, December 5, 2015

Super warm and decadent, these will be perfect for walking in the winter!

Verified Buyer

Reviewed by Family of 4 from VT on Wednesday, February 11, 2015

After reading the reviews, I ordered a size up and they're still a bit snug. They also dont cover enough of the wrist... there's a small gap between the jacket and the mitten. They are really warm though, but i cant recommend them with the short wrist.

Verified Buyer

Reviewed by Gramma from Hawaii on Monday, February 2, 2015

I haven't needed to wear these yet so I dont know how warm they
will be outside, but they feel really nice& comfortable indoors.
These wont be good if you need to use your fingers individually
as the tops don't fold back. They seem to be well made too.

Verified Buyer

Reviewed by Pyewacket from New England on Wednesday, January 28, 2015

I've purchased these both as gifts and for myself. They run small, so I order one size larger than I need. They are so warm and comfortable, and the leather makes driving very easy - no slipping on the steering wheel.

Verified Buyer

Reviewed by Cyndi from Wisconsin on Wednesday, January 21, 2015

Bought a pair of these mittens and had to get more! Bought a pair for a friend too.

Verified Buyer

Reviewed by NH girl from NH on Wednesday, December 17, 2014

I love these and wish I picked up a few more pairs. Great price with 30% additional off. The inside gloves are cozy and the leather outside is great for driving. Very well made! I highly recommend

Verified Buyer

Reviewed by edythe from Colorado on Wednesday, December 10, 2014

Cozy, well made but I deducted one star as the Mittens run small so I had to return them for an exchange. I normally wear 7 1/2 glove and found that size Large is what fits in this mitten.

Reviewed by Pltk from Michigan on Tuesday, December 9, 2014

Not for an adult with normal sized hands, run VERY small. The large, which looked exactly the same size as the medium, is a good fit for my 11 year old daughter.

Otherwise, average sort of looks and quality.

Verified Buyer

Reviewed by Cam from Minnesota on Monday, December 1, 2014

As always your customer service is grand. This item is below your standards. The fleece lining was very thin, the leather was also thin and the mit was so small it should be a small kids mitten. As always you made it all wright.
Thankmyou

Verified Buyer

Reviewed by 3dvizwiz from Boulder, CO on Monday, November 17, 2014

Minus 1 star for the fit issues - my XL fits much more like a size L - but they're delightful other than that. The white is more of a cream, which is perfect. Thanks, STP!

Verified Buyer

Reviewed by Grammy from Pennsylvania on Saturday, November 15, 2014

I LOVE these glove/mittens by AuClair. I discovered them several years ago and they are the only protection that works for me (I suffer with Raynaud's syndrome). Problem is that they are very difficult to find -. Thank you Sierra for stocking these wonderfully soft leather glove/mittens!


Verified Buyer

Reviewed by Liz from Boston on Tuesday, October 14, 2014

Warm mittens with finger liners, good quality leather - I expect these to last years!

Reviewed by Dotty from MA on Wednesday, February 26, 2014

An inside glove within an exterior mitten. Kind of a weird feel at first. I would go to use a gloved finger to realize it was mittened within!! Very snug fit, but it seems the fit will loosen as it the leather breaks in. Fleece lining of gloves plus the advantage of the fingers being together keeps all warmer in the cold!

Reviewed by Nana Claus from Danville VT on Tuesday, December 17, 2013

I was very pleased when I received these mittens. The glove insert is perfect and they have a nice outer lining.

Reviewed by Vt coco from Vermont on Tuesday, December 10, 2013

These run small but otherwise are of good quality.

Reviewed by Outdoor fan from Buffalo, NY on Monday, December 9, 2013

I was pleased to find this glove within a mitten style article but found the size large to be more of a tight medium. Maybe these were mislabeled since they were so off the mark. Years ago I found a pair in Vermont and in comparison, the leather in these was much thinner. I returned both pair, but will continue my hunt ! This was a rare miss in my many experiences with STP.

Reviewed by Traveler, teacher, horse owner from Rhode Island on Tuesday, November 5, 2013

They large runs small but the red is gorgeous. I love the glove in a mitten design.

Reviewed by krisminn from Minn on Tuesday, October 29, 2013

I love these, warm, comfortable and not big and puffy. They have a soft flannel llining. I love these for driving. Go up a size

Reviewed by Elvismahone from Ottawa ON CANADA on Thursday, April 18, 2013

That's right, sheepyness. These puppies, err, sheepies...fit like a glove but that's because the are actually a mitt wrapped around a glove. Best of both hand toastyness worlds!!!

Reviewed by Dreaming of Yosemite from Yellowstone on Monday, March 25, 2013

These are my favorite style of mitten. They have fleece gloves on the inside and are not bulky like most mittens. Very well made and very warm!

Reviewed by Pyewacket from New England on Wednesday, March 6, 2013

I usually wear a small in mittens and these are a bit tight, but they will stretch. I love having the lined "fingers" inside, and the leather makes gripping the steering wheel of the car easy. I bought several of these - for myself and to give for gifts.


Verified Buyer

Reviewed by John from Fond du Lac, wi on Wednesday, February 20, 2013

Very nice warm mitten and comfortable

Verified Buyer

Reviewed by Runner from Nyc on Monday, February 18, 2013

Keeps my hands warm

Verified Buyer

Reviewed by Sprayser from Saskatchewan, Canada on Monday, February 4, 2013

Great winter mitts, excellent for attending hockey games or other social functions.

Verified Buyer

Reviewed by Sometimes its cold here from Phoenix AZ on Saturday, February 2, 2013

The tag says Surprise! although of course I knew there were fingers inside the mitten part. Great idea. The leather is very thin and flexible and seems to already be oiled or finished although I haven't had a wet occasion to test them. They are not more bulky than gloves and yet they are warmer because of the leather mitten.

Verified Buyer

Reviewed by Frenchie from St. Paul, MN on Monday, January 28, 2013

got one pair for myself - large, and one pair for my sister -small. Both are a little tight.