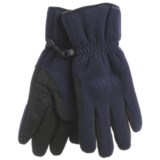 Closeouts. Auclair's Wind Block fleece gloves will keep your hands warm and your grip tight when racing down the mountain.
Average Rating based on
221
reviews
4.040723
0
5
Verified Buyer

Reviewed by Todd T from Chicago suburbs on Wednesday, January 14, 2015

My first impressions of the gloves were great. Warm, blocked wind (like 0 wind, unbelievable for a fleece glove how great this feature is), fit well, great for 0F weather walking the dogs. I am a small guy and the size SMALL gloves fit me great..I saw others complaining about sizing and perhaps they are right, maybe they are on the smaller side for a given size? I don't know, fit me great.

However, the windblock component in the gloves must be a moisture barrier. The gloves really do keep your hands warm but work so well your hands are sweating and the liner becomes damp. Other gloves I own I can set out and they will dry on their own. These have not. I need to go toss them in the dryer. If I had radiator heat I would set them there and I bet they would be fine. But, I don't, so at 5am when I take the dogs out for a walk I am currently grabbing other gloves as these are damp inside.

For the price I paid (low), I may buy a few more pair and put on a rotation in the dryer.

Verified Buyer

Reviewed by bubbasmom from NJ on Monday, December 29, 2014

Nice gloves for early winter, good for driving. Good price and quality.

Verified Buyer

Reviewed by B in the PNW from USA on Friday, December 26, 2014

Very nice gloves but order 1 size bigger or more!

Verified Buyer

Reviewed by dano from Hawaii on Tuesday, December 23, 2014

Gloves are well made and warm. Only problem is that the fit is a little tight. Order bigger than the chart shows.

Verified Buyer

Reviewed by Biz Casual in NE from LIncoln NE on Thursday, December 4, 2014

I like all the features of this glove and will get great use out of it. I ordered the largest size available (lg) and it's not quite as roomy as I prefer. No room for any liner, if that's what you like.

Reviewed by Hcore hunter from Pennsylvania on Tuesday, December 2, 2014

I love these gloves though I have not used them much. I usually wear a size large glove and sometimes even a size med (and I own and have owned many gloves) and a size large is just a little tight on me. I've learned to never buy a glove that is a little tight because even if they work fine my hand fatigues quickly.

Verified Buyer

Reviewed by Winter Rider from Boston on Saturday, November 29, 2014

Overall, these are decent gloves, well made and true to size. The fleece feels nice and soft on the inside and the gripping rubber dots that are on the outside (palm and fingers) do provide really good grip.

The wind blocking membrane does what it is supposed to do, so cold wind is kept out. I've used it so far riding my bike in cold weather ( below 32 F).
The relative negative here is that the membrane is not breathable, so your sweat will be retained inside the glove and if you're out in the cold long enough, your hands will get cold.

The membrane also makes things tricky when drying out the glove. You'll have to invert the gloves carefully to keep the membrane in place since it's not bonded to the fabric. If you don't invert it, the inside won't dry and probably start to smell due to mold that's sure to grow.
So if you can put up with these shortcomings, it's not a bad glove.

This glove is probably not the best thing for highly aerobic activities like XC skiing, winter biking or running, etc, but probably OK for other cold weather protection.

Verified Buyer

Reviewed by Happy Hiker from Bay Area, CA on Wednesday, November 19, 2014

I love these gloves. They are light-weight, form fitting fleece (i.e., with stretch) and grip. I can't determine the water-proofness as they have not been exposed to such condition. The warmth level is 6/10. Nice to have when it's windy and chilly or if you are active.

Verified Buyer

Reviewed by MK in MT from Northern MN on Wednesday, November 19, 2014

These gloves looked good online, so I ordered them. They really fit well, have a special lining, are not bulky, and very classy. I live in northern MN, and with winter already here (Al Gore did not show up to help me shovel), these gloves have been worn everyday. I purchased two sizes, L and XL. If your hands are slightly bigger than average, you will need the XL. If in doubt get XL. JK

Verified Buyer

Reviewed by beerboy from Wisconsin on Tuesday, November 18, 2014

Well first off, I had to send these gloves back the first time because they were too small but I ordered the next size larger and the fit is a nice snug one. They are very comfortable and have the grip palm and fingers for grabbing things such as your coffee while driving to work in the cold morning hours. Highly recommended but if you have big hands like me, order a size larger than what you think you need.