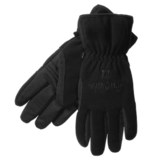 Closeouts. Auclair's Windblock gloves are made of ultra-soft fleece with DriTex windproof treatment, a grippy PVC-dotted palm and 40g of toasty-warm Thinsulate® insulation.
Average Rating based on
197
reviews
4.167512
0
5
Verified Buyer

Reviewed by Beachsunset74 from Washington DC on Tuesday, December 8, 2015

I wore these during an outdoor workout in 30 degree temps, and these gloves kept my hands nice and warm. Love these!

Verified Buyer

Reviewed by Tasha from central oregon on Wednesday, December 2, 2015

I am very pleased with this glove. It seems to keep my hands quite warm and dry. So far, in 10-20 degree temps, its keeping me comfortable. And the fit is much better than more expensive gloves that I've purchased.

Verified Buyer

Reviewed by mab from CA on Thursday, November 26, 2015

These are nice and warm gloves, especially for the price. The size medium fits well (I wear dress gloves size 8.5). The gloves are fleece like with gripper dots in the palm and front of the fingers.

Verified Buyer

Reviewed by Melissa from Upstate New York on Sunday, November 15, 2015

These gloves were a great buy and are just what I need for walking the dog on chilly mornings in Upstate New York.

Verified Buyer

Reviewed by Katherine the artist from New York on Monday, November 2, 2015

I have little hands, and ordered the size small. They're a great fit, and do not run large. Warm and cozy.

Verified Buyer

Reviewed by Carolina the gardener from MI on Wednesday, October 28, 2015

These gloves fit me perfectly and seem like they will be warm. I have not worn them outside yet so can't attest to how waterproof they are.

Verified Buyer

Reviewed by Becky the hiker from St. Louis on Wednesday, September 9, 2015

The grip is really great for driving. They fit great.

Verified Buyer

Reviewed by leigh from PA on Wednesday, July 22, 2015

You can't beat the sale price! Its hard to say what size works best. I have small hands and have trouble at stores with the standard gloves being too big. These are a little snug in the small but I think will be fine. I feel the medium would likely be too large. Since I ordered in the summer I haven't worn in cold weather yet but they seem well made.

Verified Buyer

Reviewed by DM from Boston, MA on Monday, March 30, 2015

These gloves seem very warm, but when I ordered them in the size I usually get, they were way too small. I was disappointed in the fit & had to exchange them. All of the other gloves & mittens I ordered in the same size & they fit. I would recommend to get one size larger than normally ordered.

Verified Buyer

Reviewed by Deb from Pennsylvania on Monday, March 23, 2015

These gloves seem to be well made. It is difficult for me to rate them because I have not worn them yet. I will say that they do seem small so order up a size.

Verified Buyer

Reviewed by Miss Stitches from North of Boston on Tuesday, March 17, 2015

really nice, warm gloves that actually fit well - not bulky
great value

Verified Buyer

Reviewed by Biker Girl from Redding, CA on Tuesday, March 3, 2015

I am a small person so I ordered the gloves in medium. They were so small and tight that I couldn't wear them. Ordered a large, they fit fine and are very warm. I really like the grippy palm and fingers.

Verified Buyer

Reviewed by Shoveling A from Pennsylvania on Tuesday, March 3, 2015

These gloves are great...keeping my hands warm & dry. Normally my finger tips get cold within a few minutes, not with these gloves & the fit is good too.

Verified Buyer

Reviewed by Judybug from New York on Wednesday, February 25, 2015

These gloves are well lined and very warm. I bought a large and I could have used an extra large as it is difficult to take them on and off because of the thick lining. Once I get them on, they are tight but comfortable.

Reviewed by ffirforest from Massachusetts on Wednesday, February 18, 2015

I didn't appreciate these gloves until this season's SNOWpocalypse! Three times in the last month I've had to remove at least 12" of snow from my car. My snow brush wasn't adequate so I used my hands. While other gloves are soaked through after two swipes, these gloves remained dry and more importantly, kept my hands dry and warm until I finished. These are better than my ski gloves.

Verified Buyer

Reviewed by Home in PA from PA on Tuesday, February 17, 2015

Seem warm but too small to wear

Verified Buyer

Reviewed by Kay from Australia on Tuesday, February 3, 2015

I haven't tried these in the cold yet, but they fir snugly and seem to be good.

Verified Buyer

Reviewed by Maegen287 from Syracuse ny on Friday, January 30, 2015

The glove runs small but is warm

Verified Buyer

Reviewed by Michelle with horses from Davis Ca on Thursday, January 29, 2015

Gloves are comfortable and fit well. Liner is a bit loose, so can be hard to slip on and off.

Verified Buyer

Reviewed by Jumping spider from Colorado on Saturday, January 17, 2015

Everything I read from existing reviews was accurate. I wear a small maybe medium glove. I got the large and they fit perfect. Warm and windproof. The only thing I have noticed it that the insides stay damp for at least 2 days if I am sweating or from snow melt. A great purchase. They are my new go to gloves.

Verified Buyer

Reviewed by Janine the lifelong Cowboys fan from Berkshires, Massachusetts on Monday, January 5, 2015

These gloves, which appeared very well made, were not warm enough for me here in Otis, Mass., in the Berkshire Mountains. Within a minute of my going outside, the tips of my pinky and ring fingers became extremely cold. I've never been completely sold on Thinsulate. I will be returning them.

Verified Buyer

Reviewed by Singergirl from Chicago on Wednesday, December 31, 2014

These are truly excellent gloves that really deliver what they claim - ultra soft, windproof, toasty-warm.

Verified Buyer

Reviewed by Singergirl from Chicago on Tuesday, December 23, 2014

The comfort and warmth of these gloves is superb. And the price is right. Note that sizes run a little tight.

Verified Buyer

Reviewed by Mel from Cambridge, MA on Tuesday, December 16, 2014

We have't had the 20 and below weather that's coming yet to really test the product. But so far, dark morning and dark night long dog walks have been OK for warmth. However, I wear a L women's (sz 6 fingers but wide palm) and these are super tight on the fingers. The fleece in the fingers is very thick and I think this adds to the tightness, makes it hard to bend fingers.

I'm keeping them, though, b/c I'm hoping that wear over time will make the fingers a bit looser. I need wind blocking for cold-weather biking, running and dog walks.

Verified Buyer

Reviewed by Exercise nut from New Jersey on Thursday, December 4, 2014

These are REALLY warm! But, size up. I am normally a small medium in gloves. I ordered a large for myself and a small for my 9 yr old son who has wide hands. The large was perfect on me, the small too short in the fingers for me but too tight for my son.

Verified Buyer

Reviewed by 50 something from Wisconsin on Tuesday, November 18, 2014

I ordered large and the didn't even begin to fit. Gave them to another gal with very small hands. The gloves were exactly what I wanted, but poor fit.

Verified Buyer

Reviewed by Sandy from Virginia on Monday, November 17, 2014

These gloves are nice and as warm as I've found for gloves with some dexterity, but they definitely run small for the sizes. I generally wear a small, but needed to exchange them for a medium. Sierra Trading Post made the exchange easy and the new pair arrived quickly.

Reviewed by saspa from pa on Friday, March 14, 2014

bought these to replace a lost pair....without fail, found lost pair 2 days after receiving new gloves....wearing my new gloves now,,, very much warmer...

Reviewed by gloves for October till March from Boston Ma on Wednesday, March 12, 2014

These gloves are not warm ,I needed a pair that would keep my fingers toasty. I am returning these gloves

Reviewed by frankie from MA on Wednesday, February 12, 2014

Awesome fit and warmth, works well even in 20 degrees F.