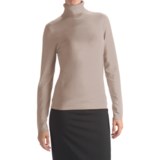 Closeouts. An essential classic, you just can't pass up this August Silk turtleneck sweater. From work to weekends, let this lightweight, silk-blend knit be your go-to piece.
Average Rating based on
178
reviews
4.348314
0
5
Verified Buyer

Reviewed by domestic goddess from Michigan on Tuesday, December 6, 2016

I really like this sweater. The neck is not too tight, the material feels great. It's not thin but it's not too thick for wearing under other sweaters. I find wool to scratchy so I prefer a silk or cashmere blend. The quality seems good and I just washed it and it held up fine.

Verified Buyer

Reviewed by Dundee Girl from Nebraska on Saturday, December 3, 2016

Knowing your size works well for August Silk apparel. I've purchased from local department stores as well as Sierra Trading Post and am very pleased with this sweater.

Verified Buyer

Reviewed by Ritzy's Mom from Minneapolis on Tuesday, November 29, 2016

Flattering fit with ample sleeve length for my broad shoulders and longish arms (size small: 5 ft 5 in, 124 lbs). Sizing true, not tight. Polished look. Easy care. Rich colors. Have to see how shape holds up over time. Great deal.

Verified Buyer

Reviewed by Runswithdogs from Northern Indiana on Friday, November 25, 2016

I have a number of these now and got the blue. They blend of silk and synthetic menas you get a slight sheen, a small gauge and you can wear them to work under a jacket when it is cold. They are sleek and have always held up well with hand washing and lay flat to dry. Really much more resilient than a pricier silk blend version I got at a specialty store.

Verified Buyer

Reviewed by Runswithdogs from Northern Indiana on Friday, November 18, 2016

I buy these when I can. The silk blend means that they are soft, lightweight, but stronger because of the synthetic. They are smooth enough to wear with a dress suit.

Verified Buyer

Reviewed by SpiderLady from Belmont, NH on Friday, March 25, 2016

I'm pleased with this turtleneck, mostly due to it's somewhat dressy look, suitable for wearing to work. It runs true to size - I usually fill out a size 12, and the Large fits nicely. The knit is soft and a little glossy, as you'd expect from a garment with silk. I knocked it down to 4 stars because it tends to wrinkle quite a lot. Also, I need to keep it away from anything rough, or it gets tiny snags.

Reviewed by shapack from Southeast on Sunday, March 13, 2016

I ordered 6 of the August Silk Turtlenecks. 3 are excellent quality, though they pick very easily. The remaining three came apart at the seams between the neck and shoulder the first time I put them on. There is so little fabric that sewing the area is impossible. I really wanted to like these, but 50% defective is bad quality.

Reviewed by shapack from Southeast on Friday, February 26, 2016

I love silk and nice products. I bought 4 of these turtlenecks because of their appearance and the great price. I've put on 3 out of the four. The turtleneck detached from the body of the shirt on two of these the first time I put them on. I have a normal sized head and a skinny neck. Do not buy unless you are a seamstress. Very, very poorly constructed.

Verified Buyer

Reviewed by GV from Grass Valley, California on Sunday, January 3, 2016

I have pretty sensitive skin, but the fabric felt itchy. It would probably work if you wore a layer underneath. The size was about right.

Verified Buyer

Reviewed by Frequent STP customer from South Dakota on Friday, January 1, 2016

I purchased this in purple and light blue. Material was thinner than I had anticipated so I'll wear it under jackets or another 2nd layer. The first time I took it off, the seam at the armhole ripped. I would not purchase this again.

Verified Buyer

Reviewed by Annie from Davis, CA on Thursday, December 10, 2015

I love these. They fit perfectly and have a wonderful "hand". But.....both of the sweaters I got had small holes at the seams. That's really not acceptable. I'll mend them but this might be a major problem from someone who doesn't sew.

Verified Buyer

Reviewed by Peach from Long Beach CA on Monday, December 7, 2015

Sweater was as expected (this is not my first one): lightweight and a great color (teal). I really need an XS but can make the Small work (its for work).

Verified Buyer

Reviewed by Green Thumb from California on Thursday, December 3, 2015

I bought this in the grape color and liked it so much I ordered another in the gold. Both colors are beautiful. The gold is much warmer and prettier than it appears on my computer screen. You can't beat this sweater for fit and feel and it's washable.

Verified Buyer

Reviewed by Calin from Susquehanna County, PA on Thursday, November 19, 2015

I purchased the "Glorious Grape" color. I was a little apprehensive about the name of the color, but it turned out to be a very rich plum purple. As the description indicates, it is lightweight and works best for layering under a jacket or another sweater. But what I like best about it is that the turtleneck "stays put". It doesn't roll and stays exactly folded, so no "wardrobe malfunctions" while wearing this turtleneck. The fabric is comfortable and the length is sufficient not to pull out of pants or show the waistband when moving. Love it!

Verified Buyer

Reviewed by Linda J from Salt Lake City on Tuesday, November 17, 2015

Exactly what I wanted, fits fine, sleeves are not too short, turtleneck is not too skimpy, good looking, dressy top.

Verified Buyer

Reviewed by Catwings80 from MA on Tuesday, November 3, 2015

I love this turtleneck. It is a true mid weight silk blend. It's stretchy enough to easily go over the head. It's warm. And the finish is smooth. I ordered two more colors.

Verified Buyer

Reviewed by Ghost Electric from NC on Wednesday, October 21, 2015

The material is great, a versatile medium weight and comfy on the skin. Highly recommended!

Verified Buyer

Reviewed by LaMadrilena from Naples, FL on Wednesday, October 7, 2015

These turtlenecks stretch enough that they're very flexible in sizing. It's also weighty enough to skim the curves but show no lumps or bumps. I'm a 10-12, 36D, and the medium fits well. The sleeves were a little long for me (5'4") but they work fine with a roll up or push up style. It looks good separately or underneath a suit jacket, a sweater, or other pieces you may have.. The material is a silk and rayon blend which will breathe and is very ccomfortable. It will polish your appearance, and it will be a versatile piece for your wardrobe.

Verified Buyer

Reviewed by tande71 from Montana on Monday, December 15, 2014

Very sharp looking style with catchy colors. I wish it had more silk in it though since we're fans of silk.

Verified Buyer

Reviewed by Karen from Minneapolis on Sunday, December 7, 2014

And the turquoise was a lovely color! Most of the time I don't like the shades of turquoise in turtlenecks (either too green or too bright) -- this is what I expect from August Silk. (P.S. one of the ones I purchased four years ago still looks great...)

Verified Buyer

Reviewed by j. Alissa from Texas on Thursday, December 4, 2014

I ordered two of these and one's sleeves are shorter than the others. I normally wear a medium but needed to order the large.' All that being said, the sweaters are a nice medium weight and fit well. I'll keep them.

Reviewed by Anonymous from Ohio on Wednesday, November 12, 2014

Ordered this at the same time as a much more expensive, but similar, Pendleton sweater. Preferred this one for fit (shaped but not clingy) and material. Will be ordering more!

Verified Buyer

Reviewed by LaurelinColumbus from OH on Saturday, November 1, 2014

Black turtlenecks are a fall and winter staple in my wardrobe. You wouldn't think that there could be much variation in quality--I mean, a turtleneck's a turtleneck, right? Nope, not in this case... The quality and feel of the fabric, especially for the price, along with the great cut and fit. Not your run-of-the-mill. Would love to buy them all (and just might). One of the best purchases I've made on STP. Thanks!

Verified Buyer

Reviewed by Gymrat from Chicago, IL on Wednesday, October 29, 2014

I purchased a couple of these turtlenecks, one in white and one in black. I love them. the fabric is very soft. The finishes are nice so you can wear them to work or under a sweater. These are not bulky turtlenecks, so you can wear them to work, out for an evening or for casual wear.

Verified Buyer

Reviewed by stoney point from duuth on Tuesday, October 28, 2014

Sweater is great. fit is normal, smaller than some, but what I expected from august silk. Haven't washed yet, but it looks great alone or under a jacket or sweater. Neck is ok, but I'd like it looser. I think it will become looser as I wear.

Verified Buyer

Reviewed by Margie from Colorado on Friday, October 17, 2014

Soft and silky. Fit is true to size and flattering. This is a very nice layering sweater or wear alone on mild days.

Verified Buyer

Reviewed by Bargain Shopper from Minnesota on Friday, October 17, 2014

Silky, smooth t-neck. Can be dressed up or worn casually. Roomy fit. Happy with purchase.

Verified Buyer

Reviewed by Mjws from PA on Monday, October 13, 2014

I ordered a size larger than usual because I like a comfortable fit, not tight. The larger size is just right, length still short enough that it can be layered under shirts or sweaters, or not. The teal color very attractive.

Verified Buyer

Reviewed by Treelady from Missouri on Friday, October 10, 2014

I purchased the retro wine/burgundy color to wear casually with jeans or cords. The knit is fine, not coarse. But on me the fit is shapeless. It is a turtleneck to wear on a Friday night at home or for pizza out on a Saturday. I do believe a taller, rangier woman could look svelte in this turtleneck. I am 5'3", 117#, wear a 34B bra, waist 27, hips 36-37.Alway a Petite. The sleeves are necessarily foldable on me. I will absolutely not wash this by hand and block flat to dry. If the fit was stunning, I might. I will wash on cool/warm, dry for 10 minutes, hang and smooth on hanger. I did this with silk ribbed turtlenecks from anther maker and they shrunk 2" in sleeve and body length. I expect the same. The folded tneck is not too tall for me. I am sensitive to this, being small.

Reviewed by mtn girl from Idaho on Thursday, January 16, 2014

This turtleneck is soooooo comfortable, it's so, how do you say it? silky!