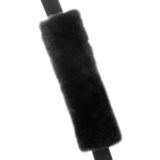 Closeouts. Protect against seat belt rub on every drive with Auskin's cozy sheepskin seat belt cover.
Average Rating based on
145
reviews
4.331034
0
5
Verified Buyer

Reviewed by mollie from Indiana on Wednesday, February 22, 2017

this is so nice. I love the guard and the warm softness

Verified Buyer

Reviewed by Anne Gray from Kingston, nY on Friday, December 2, 2016

The velcro was tough to undo which is great because it will hold on the seat belt better than the one I have now. The sheepskin is fine quality and worth more than the price Sierra charged.

Verified Buyer

Reviewed by Anonymous from mattituck, long island, ny on Tuesday, November 15, 2016

Love this, it was a bargain and now, my seat belt no longer irritates my neck. This works great, I just adjust it to where I need it when the belt is fastened. Comfortable in all seasons. Highly recommend.

Verified Buyer

Reviewed by GrammyPA from PA on Thursday, July 28, 2016

I have always used a sheepskin seat belt cover..........they are comfortable........keeps the belt from cutting into my neck. They wash up with just a wet soapy cloth. I do not put the entire seat belt cover in water.......

Verified Buyer

Reviewed by defaultdale from Oregon on Tuesday, May 17, 2016

Smaller than expected. Packaging states made in China of Aus (sheep) materials.

Verified Buyer

Reviewed by Jenn of Ark from Arkansas on Friday, December 18, 2015

I've loved these things since I first felt one years ago on somebody else's seatbelt. The driver's side seatbelt, for some reason, on our car at least, rubs against the driver's neck and on long trips can be very annoying. The passenger side seatbelt does not do this; it's at a different angle or something. The soft sheepskin helps a lot. These open out into a flat sheet with velcro on the sides so you just wrap it around your seatbelt and the velcro holds it together very well. I chose the charcoal color to match our seatbelts.

Reviewed by Donnalovesasale from Georgia on Monday, November 16, 2015

At first, I thought this was nice because I'm short and the seat belt rides up around my neck and this made that feel better. Then, one day I'm wearing a very expensive cashmere sweater, and the Velcro part had turned around and imbedded itself in the sweater and when I released the seat belt, it snatched a lot of the fibers leaving an unsightly patch and unbelievable snags. I, of course, immediately threw the cover away. There was no hope for my sweater.

Verified Buyer

Reviewed by LabCruiser from Tennessee on Thursday, October 8, 2015

I was pleased with my first purchase of seat belt covers over a year ago. Recently I returned for a second set. I am very pleased with both purchases and the customer service at STP. I find these genuine sheepskin covers help protect delicate clothing from seat belt wear. I also appreciate the wide color selection to compliment car interiors. They are as described. I would, however, enjoy a longer length option.

Verified Buyer

Reviewed by Guide's Wife from E. WA on Saturday, September 26, 2015

I bought 4 of these for my Lexus and get so many compliments on them. They look beautiful with my cream interior, and are so luxurious!

Verified Buyer

Reviewed by Smartgardener from Washington on Monday, September 21, 2015

Always have a sheepskin cover on my seatbelt as it bothers my neck. My old one needed replacing. This one, although a few dollars less than the auto shop locally is thinner and scratchy on my neck. Not a good purchase.