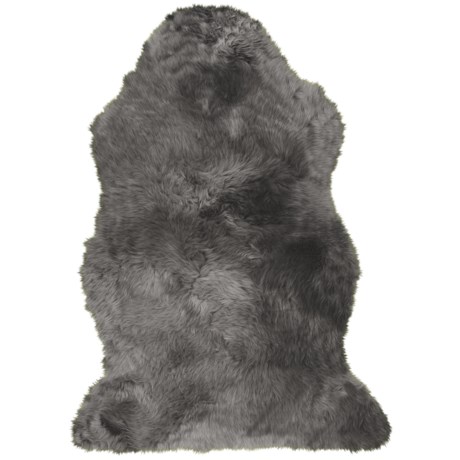 Hi,

My backing measures 37 1/2 inches in length for the backing. The longwook sticks out another 2 inches on each end with a total measurement of 41 1/2 inches. If the long wool is brushed up or gets matted of course it would be shorter. Hope this helps, it really is a nice pelt and I found out that the company Auskin only gets pelts from sheep that have been slaughtered for meat. They do not kill just for the pelts. In light of that I ordered 2 of the shorter ( and cheaper ) pelts for my dogs but have not received them yet.

I would assume that it is an approximate (or minimum) measurement of the skin itself (the white backing, as you say). You sent me scrambling for my tape measure. I measured two of mine, as the other two are being set on. The skin side of one was 39" and the other was 38,75".

Thanks folks. I have one that is almost 40" long on pelt side and just got another locally to Match but it's only 36". Full 4" shorter ! I may just order one through here and see what I end up with!

38.5" is the size of the white backing. The fur sticks out (or up) another 1.5" all around.

I just measured the backing and it was 37 inches, so I would assume the 38.5 inches is the fur "hanging" over the backing.l

Sorry to take a while to answer. I had just washed the two rugs I had, and it took four days for them to dry completely on the line. After their first washing, the leather side was 32 x 24. After I brushed out the wool, the wool side measured 36 x 26. I didn't measure them prior to washing, but I had always figured the size of the rug was approximate because each sheep that contributed the pelt naturally varied in size.