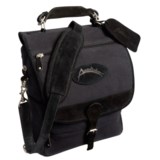 Closeouts. Recreating timeless designs in premium quality materials; the Australian Bag Outfitters' rugged Yakka messenger bag is as adventurous as your dreams. Sturdy cotton canvas is lightweight, with truly legendary durability.
Bridle leather reinforcements add strength and style
Rustproof brass hardware
Reinforced stitching throughout
Fully lined gear works as great as it looks
Lots of organizing features
Plenty of space for a day on the go
Padded, removable shoulder strap: Adjusts to 54"
Dimensions (LxWxD): 12x10x4-½"
Capacity: 540 cu.in.
Weight: 2 lb. 6 oz.
Material: Cotton canvas with leather trim
Closeouts. India.
Average Rating based on
23
reviews
4.130434
0
5
Verified Buyer

Reviewed by tnhut from nashville on Friday, February 3, 2012

great little bag for traveling.

Best Uses: Airplane travel , Commuting, Computer
Describe Yourself: Comfort-Oriented
Pros: Comfortable , Durable , High Quality, Lightweight 
Was this a gift?: No

Verified Buyer

Reviewed by T from southeast on Saturday, December 24, 2011

This is a great all around bag.

Best Uses: Airplane travel , Commuting, Day Trips, Office, School
Describe Yourself: Classic, Comfort-Oriented, Practical
Pros: Attractive, Durable , Good Strap Length, High Quality, Roomy 
Was this a gift?: Yes

Verified Buyer

Reviewed by RoadWarrior from Minneapolis, MN on Wednesday, April 21, 2010

I use this bag as my everyday briefcase. It's roomy, has several smaller pockets for all my devices and accessories, and holds up well under everyday use. It transitions well for use on short business/personal trips. It's durable, casual, yet the finishing and detailing makes it perfectly acceptable in a relaxed professional setting like my office.

Best Uses: Daily Briefcase
Describe Yourself: Career, Comfort-Oriented, Practical
Primary use: Personal
Pros: Easy To Access Items, Easy To Carry, Easy To Identify, Good Capacity
Travel Frequency: 11-19 Annual Trips

Verified Buyer

Reviewed by Cruzan Susan from Tacoma Washington on Monday, March 29, 2010

Love the purchase thanks again STP!

Best Uses: Family Trips, Long Vacations, Weekend Trips
Describe Yourself: Career, Classic, Comfort-Oriented, Modern, Practical, Stylish
Primary use: Personal
Pros: Easy To Access Items, Easy To Carry, Easy To Identify, Good Capacity, High Quality

Reviewed by iscoffy from Bay Area, CA on Thursday, March 18, 2010

Update to my previous review: after eight days of heavy use (on vacation in Australia, carrying the bag, weighed down with camera, lenses, wallet, water bottle, etc., everywhere), the suede loop attachment for one side of the shoulder strap began ripping. I suspect this is due to the D-ring hardware, which is thin and can move around easily, which of course rubs on the suede loop.

I like the bag overall, so I am getting the loops replaced with a more durable leather and getting different hardware, but not having to go to the trouble after eight days would have been better.

Best Uses: Family Trips, Weekend Trips
Cons: Tears Easily
Describe Yourself: Career, Classic, Comfort-Oriented, Modern, Practical
Primary use: Personal
Pros: Easy To Access Items, Easy To Carry, Easy To Identify, Good Capacity

Verified Buyer

Reviewed by El Gordo from Kentucky on Friday, March 5, 2010

Great for a DSLR camera bag that also carries about everything else you need to tour.

Best Uses: Long Vacations, Weekend Trips
Describe Yourself: Comfort-Oriented, Practical
Primary use: Personal
Pros: Easy To Carry, Easy To Identify, Good Capacity, High Quality

Verified Buyer

Reviewed by auburn from SC on Tuesday, February 23, 2010

None

Describe Yourself: Comfort-Oriented, Modern, Stylish
Primary use: Personal
Pros: Easy To Access Items, Easy To Carry, Easy To Identify, Good Capacity, High Quality

Verified Buyer

Reviewed by iscoffy from Bay Area, CA on Tuesday, February 16, 2010

The bag is a very nice size, has a nice appearance and seems to be sturdy. The strap is comfortable and overall, I am pleased. The choice of suede seems a strange one, especially as it has a tendency to leave little black bits on one's clothes. My other minor complaint would be that there aren't any dividers or pockets in the main compartment. Overall, though, I am enjoying using this bag.

Best Uses: Long Vacations, Weekend Trips
Cons: No inside pockets, Suede sheds
Describe Yourself: Career, Comfort-Oriented, Practical
Primary use: Personal
Pros: Easy To Carry, Easy To Identify, Good Capacity

Verified Buyer

Reviewed by RIGGY1 from CONNECTICUT on Thursday, February 11, 2010

PERSONAL STORAGE
GOOD SIZE,NOT WATERPROOF

Best Uses: DAYLY USE
Cons: NOT WATER PROOF
Describe Yourself: MEDICAL PRACT
Primary use: Personal
Pros: Easy To Access Items, Easy To Carry, Good Capacity

Verified Buyer

Reviewed by Picabo from Indiana on Tuesday, February 2, 2010

This is my third product purchased from this company. Each has been simply wonderful. I wanted a messenger style bag for everyday use, but I didn't need the standard 15" or bigger design. This one fits perfectly for my use - plenty of room, easy access all around, built tough, really beautiful color scheme (tan with coffee colored leather). I can see this being a really long life bag - decades and beyond! It will not be the last item from these guys, either. I love that there are other bags and luggage type items I can buy to match. I cannot imagine anyone being disappointed with this bag. I have had a range of them over the years, cheap and extremely high quality and higher priced. This one is a super buy, and superior quality.

Best Uses: Daily Messenger Bag, Family Trips, Long Vacations, Weekend Trips
Describe Yourself: Classic, Outdoorsy
Primary use: Personal
Pros: Easy To Access Items, Easy To Carry, Easy To Identify, Good Capacity, High Quality, Matching Items available, RuggedAttractive Design, Sturdy