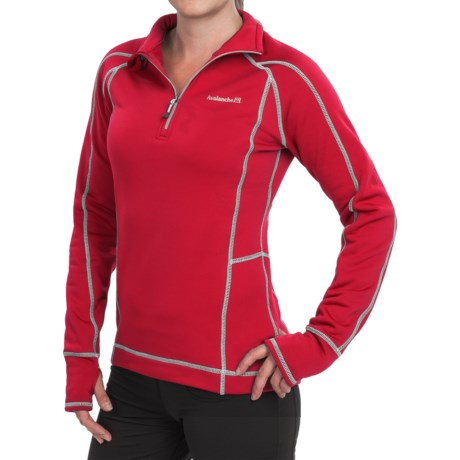 MY FAVORITE!
Reviewed by Young professional who loves the outdoors but cares a lot about looking classy for my daily life in the city. from Washington, DC on Friday, February 3, 2017
I actually found my first one of these at a Modell's years ago and was SO thrilled when I saw them available on STP! This is THE BEST PERFORMANCE activewear clothing I have ever owned. I'm a 5'8" size 2-with-a-large-bust female and I wear a small perfectly. If I really wanted to layer underneath this I'd probably go with a medium, but the performance is so good I don't need to. I wind up using this a next-to-base-layer or a light jacket. Here's the breakdown of pros and (almost no) cons.

Pros:
-For a morning run at 30 degrees, all I need is this and a lightweight long sleeved shirt underneath. And I'm one of those women who's always cold! For less intense activities in the cold I'd have a tank under this and a down vest on top. This piece is definitely a warmth layer.
-The fabric of this is magical because the fibers do not absorb liquid. It's thick and almost spongy because of the fleecy inside. The fleece actually wicks away sweat from the skin and if it does start feeling a little wet inside, just take it off inside out, give it a good shake, and it'll be pretty much dry when you put it back on. If you do a lot of backpacking you'll know that's essential. That being said, I don't suffocate in this if I overdress; it breathes pretty well.
-I have a pretty long torso and the small doesn't look like a belly shirt.
-My old version from Modell's doesn't have the thumb holes. This style on STP does and it's terrific!

This is the only con and I mean it:
-Somehow I must have been wearing something slightly abrasive on top of this at one point (something with velcro? or a rough nylon of a backpack strap?) and the lovely soft, smooth outside got major pilling. It has not damaged the performance of the piece whatsoever, but it's definitely an eye sore. Stay away from velcro with this!!

Overall:
I'm not kidding when I say this is my favorite piece of activewear ever (and I buy Lululemon, REI, NIKE, UnderArmour, NorthFace, and all of those). Versatile, tailored fit, and HIGH PERFORMANCE. This really can get you through a lot of different outdoor scenarios- throw it on top of a tank during a chilly evening and it's better than a fleece. Wear it to run, hike, or walk home from an exercise class. I can't say enough.
Most helpful negative reviews
Similar items and more information in the following areas: