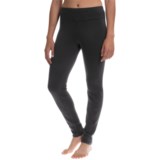 Closeouts. Wear Avalanche's Mogul fleece base layer leggings under your ski pants as a warm, midweight shield against the cold, or wear them on their own on a run during a brisk day. Either way, the built-in four-way stretch and soft, moisture-wicking fabric will keep you comfortable all day long.
Questions about this product? Get answers from community and staff experts.
Question
(4 Questions)
Answer
(10 Answers)
"Where do the back seams of the leggings run on the buttocks? Is there just one centered? Or two, each running over a cheek?"

Just one centered back seam..

mine have seems down the outside of each leg and down the inside/inseam, no seams on buttocks or cheeks :-)

"Are these actually leggings as pictured or a boot cut pant as one reviewer mentioned receiving?"

This brand also makes a boot cut pant so I think that reviewer may have received the boot cuts by mistake. These are definitely leggings but cut generously so while they do hug like a legging they are not at all tight. The picture is accurate. Hope that helps. Definitely order at least 1 size down. I'm pretty much living in them these days.

There are two different pairs. These are the form fitting like running tights.

I received the leggings as pictured. There is also a boot cut pair availavle, also, or was.

These are certainly thicker and made of warmer, heartier material than typical leggings, but I would still call them leggings. Though, they are thick enough to be comfortably worn as pants without being as revealing or super form fitting as leggings can be.

"I am wondering why the size large is 10-12, when the mogul yoga pant and the avalanche website for the mogul legging states the large is an 8-10? Is this a compensation for the legging running large or a typo?"

Thanks for bringing this to our attention. I would recommend using the Avalanche Wear chart. I am notifying our spec dept.

"is the fleece just on the inside of the leggings and the outside is spandex? or is the outside fleece too?"

The entire pant is fleece, the outside is a smooth fleece.

The fleece is inside only, outside they are smoother.

Good question. The fleece is just on the inside and the outside is spandex. They are great leggings!