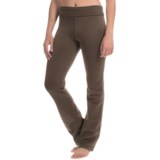 Average Rating based on
308
reviews
4.168831
0
5
Reviewed by Southern Girl89 from Chicago on Wednesday, March 29, 2017

These pants are very warm and that's what I was looking for to sit around my cold Chicago apartment. I'm 5'2, 125lbs and the small fits well. They fit like yoga pants. They pilled terribly after the first washing so I don't think they would be good for wearing outside the house except for maybe a quick trip to the store. Also, if you have pets, they attract pet hair like crazy. Overall, because of the warmth and the low price, I really like them.

Verified Buyer

Reviewed by skisurfer from Canada on Wednesday, March 22, 2017

Nice and thick for under other outerwear. Would never wear them alone as they are likely to really snag. They feel really cosy next to the skin . So fine in the house on cold winter days.

Verified Buyer

Reviewed by Rovin' Courtney from Michigan on Friday, March 17, 2017

The first time I tried these pants on, I was enamored. They are so soft and comfortably, with a great range of movement. You could definitely wear them for cold weather outdoor activities, as well as lounging in the house or by the campfire. However, there are a couple downsides. After wearing these pants a few times and washing them, I did notice the fabric pilling. I'm not sure that these pants are going to stay in good shape for very long. Also, I ordered a size medium (5'4" 150 lbs) and noticed that the waist band is not particularly flattering if you don't have a 6-pack. Overall, I like these pants and do plan to wear them.

Verified Buyer

Reviewed by Margaret from Oakland, CA on Sunday, March 12, 2017

The pant legs were 7 inches longer than described for a size small. Returned them.

Reviewed by Dee from NC on Sunday, March 5, 2017

I originally got these for my daughter but it wasn't the fit for her so I tried them on and loved them. They were so cozy and warm and I loved to travel in them since they don't bind or pinch anywhere. UNFORTUNATELY, that was where the "I love them" ended. The first time I washed them (I washed them in cold, inside out and hung to dry) they started to pill. When I wore them, it got even worse. I picked off the pills and wore again and it just continued to get worse. Yesterday I wore them for the last time, since they look ragged and that was the 6th time I wore them. It is too bad that these pants that I loved so much only lasted a short time.

Verified Buyer

Reviewed by Calypso from New Hampshire on Friday, March 3, 2017

I had to order a size down to get these, and they are a bit snug, but forgiving. Nice and warm, cozy with an underlayer (heavy tights or long underwear), good wind resistance. I tangled with some prickly undergrowth and figured I'd pull the material badly, but not a speck of thread was pulled! Good purchase. Slightly odd brown, but I can live with that.

Verified Buyer

Reviewed by Juliejo from Upstate NY on Tuesday, February 14, 2017

I ordered the mainly for walking outside (exercising outside). They are the perfect wait for 20°to 30°. If I could I'd wear them every day! Reasonably priced too. I didn't see any in a short size, or I would've ordered some as gifts.

Reviewed by Wanderlust from Colorado on Saturday, February 11, 2017

I would have loved these pants, but the first time I wore them the fabric started pilling. The outside started to pill in several areas after a short hike, and the seam thread looks frizzy. The inside is super soft fleece, and they are very comfortable. I really wish they were made better.

Reviewed by quintana roo from california on Friday, February 10, 2017

I like everything about them except the pilling -- they are comfortable, warm, nice looking, just right in every other way. But the fabric is all goosebumps all the time. I shave them, which works for about ten minutes. I'll definitely keep wearing them until I can't stand it any more, but wouldn't buy them again.

Reviewed by Juliejo from NY on Wednesday, February 8, 2017

Haven't washed yet, but so comfortable. Perfect for walking in warmer winter weather (perhaps they may not be warm enough for the coldestvwinter weather).