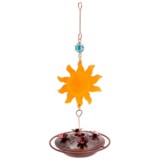 Closeouts. Avant Garden's Sun Catcher hummingbird feeder adds a touch of Southwestern style to your backyard. The bright red sun is sure to attract hummingbirds to the luscious nectar while you relax and enjoy their unparalleled grace and beauty.
Average Rating based on
15
reviews
3.733333
0
5
Verified Buyer

Reviewed by Kakalina from Port Townsend, WA on Wednesday, May 7, 2014

This is a very nice, attractive hummingbird feeder, but my hummingbirds refuse to use it. I have another type of feeder right next to it, and my birds go to that one, and completely ignore the new one. Hmmmmm...

Verified Buyer

Reviewed by Kwaker from YYZ on Friday, May 2, 2014

I bought two of these feeders ... the price was to good to pass up!
They'll look great hanging off my tree in the front yard ... a bigger bonus would be if they do attract some hummers to my property.

Verified Buyer

Reviewed by Sizzler` from OH on Thursday, April 17, 2014

it isn't very big and the color is more of a rusty brown not yellow like the picture indicates. I still have snow so I am not sure how the birds will like it.

Reviewed by GiGi from Chicago on Friday, March 14, 2014

Can't believe the deal on this. i would of paid at least 25$ elsewhere. It beautiful and will be talked about by friends and family. Hopefully the hummingbirds like it!!!


Reviewed by kbb3352 from Denver, CO on Thursday, March 6, 2014

I really like this hummingbird feeder. It will look nice on the patio even if it never attaracts any hummingbirds!

Reviewed by MLKrug from FL on Friday, February 21, 2014

Not as nice as I thought it was going to be. It's going to be hard to tell when it needs to be filled, but I guess you just check it every day or so. For the price I paid I guess it's just pretty to look at.

Reviewed by okdeb from Oklahoma on Monday, February 10, 2014

I would have been disappointed if I'd paid full retail price for this feeder, but at the discounted price it's okay.
It's very pretty, but nearly all plastic.
As others have mentioned, there are no instructions whatsoever on the box that describe how to open and fill the feeder.
You have to figure it out for yourself.
Considering how much time and planning went into the box design to display the product and support it, it's surprising that no instructions were on it.
We plan to hang this in the back yard where we can enjoy it and hope the hummingbirds do too.
Many years, our feeders are quickly emptied by finches to manage to drink nectar from any feeder with a perch.
This feeder has a ring for perching, so may or may not end up feeding hummingbirds.

Reviewed by Bird watcher from Corpus Christi, TX on Tuesday, October 29, 2013

Looks great but no directions were included. Once I figured it out I was disappointed at how difficult it is to fill.

Reviewed by Terrieinla from Redondo Beach on Wednesday, August 21, 2013

the feeder is a beautiful as the picture, lightweight and the hummingbirds love it.

Reviewed by LalaMT from MT on Sunday, August 18, 2013

This product is cheaper looking in real life than in the picture, but hey, it was cheap in price! No hummers have visited yet, but it is late in the season. It holds about one cup nectar.