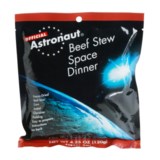 Closeouts. Enjoy out-of-this-world flavor and convenience in the great outdoors with Backpacker's Pantry Astronaut Beef Stew dinner. Just add boiling water to enjoy beef stew, corn and chocolate pudding.
Average Rating based on
17
reviews
3.000000
0
5
Verified Buyer

Reviewed by Lifes2good from Oklahoma on Sunday, April 19, 2015

I don't know about the taste yet since it's for a future trip. The main course and side dish are 'just add boiling water'. The dessert says to add cold water (may not be available) and refrigerate. Seriously? If I had a refrigerator, I would not be eating dehydrated food.

Verified Buyer

Reviewed by Aaron from joshuatree on Thursday, March 12, 2015

pretty good for what it is, but not the best tasting beef stew, but if you get it on sale you cant beat it.

Reviewed by oldmanadrift from Colorado on Sunday, November 16, 2014

Peas, corn and potatoes are all starch! The small amount of beef is limited in amount and also only resembles beef (parts is parts?). I suggest adding the corn to the stew before adding 1 cup of boiling water (if it needs more moisture add a little hot water). Like other reviews it's more like soup than stew. Also like the other reviews the pudding stays lumpy, starting with a table spoon or so of hot water might help to make smooth past then add more water.

To get some protein into the meal, add an envelope of Spam Singles or a small can of cooked chicken. If you want more beef, simmer some (homemade) beef jerky in the water to make the stew.

Overall It's better than many dehydrated meals I had and is not as good as others. I think it's worth getting with an "extra discount". Many dehydrated meals are packaged to make 2 person quantities, this meal is about right for one especially with an envelope of Spam Singles etc.


Reviewed by Patch from New Jersey on Friday, September 19, 2014

I mixed the corn with the stew and let it sit for 10 minutes in the recommended amount of boiled water boiled water. The finished product had no beef stew appearance or taste at all. The taste itself was bland bordering on yukky with very few minute pieces of beef, mostly mushy potatoes. Since I was on a canoe camping trip taking longer then planned, I had to eat something and this was it. I would not eat this again even if it was free.

Verified Buyer

Reviewed by Scouter from Topeka KS on Thursday, September 11, 2014

Not gourmet but good basic meal with no mess prep

Verified Buyer

Reviewed by Blaster Master from Lander, WY on Wednesday, July 23, 2014

This was really awful. I saw that it was cheap and went for it. Learn from my fail.

Reviewed by Oregon Tree Hugger from Portland, Oregon on Sunday, June 1, 2014

I was considering buying a couple of these for our Camping trip next month. Thought I'd bring them out and surprise the Kids.
I'm a label reader, so when I saw that this was loaded with MSG (hidden) and GMO's...that pretty much did it for me!

Reviewed by kLR Camper from California on Sunday, April 20, 2014

Price was right and the reviews were better than average but I was disappointed.
The corn was cold after the recommended wait, the beef stew was bland and had an off putting consistency.
The pudding would not mix "until smooth" as per the directions.

I threw most of it away and will not try the second package I bought.

Reviewed by Natty Ro from Florida on Monday, February 3, 2014

Went on our annual pop-pop, son and grandson trip this year and enjoyed this for lunch. Easy prep, mixed the beef stew and corn together with a dash of salt and pepper, and pudding was pretty tasty. Overall it was good enough for me to write my first review.

Reviewed by Bob 101 from NW Oregon on Tuesday, May 7, 2013

I got one package to try. The price was good and it seemed to be a good deal. I tried it as my Friday night meal because of my late arrival at my camp site. The first thing you should know: It requires you to use your own cookware and mess kit. I did everything in my insulated pack cup. The stew was better than average for a dehydrated prepackaged meal. Everything rehydrated acceptably, but it did take about 2 minutes longer than the instructions stated. The pudding required lots of mixing and was still a little lumpy, but the flavor is good. I saved the corn to add to a package of Top Ramen noodles that I had for lunch. I started rehydrating them with hot water about 20 minutes before adding the noodles and beef jerky to the soup.

Yes, I would buy this product again. For a quick meal it works well. As an added note, I rarely rate a dehydrated meal above 3 stars. They are just not that tasty and most have way too much salt.