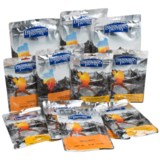 Closeouts. No, that's not a bear; it's just your stomach growling. Enjoy delicious forest fare with Backpacker's Pantry Gourmet meal pack!
Average Rating based on
181
reviews
4.320441
0
5
Reviewed by Edison in SM from California on Saturday, September 12, 2015

We bought a number of these packages in order to be able to go backpacking at a moments notice. My wife has celiac, and so we purchased some other gluten-free packages to supplement this,
We took this package on a recent three day trip, and we were pleasantly surprised by the variety and tastiness. Even though dehydrated will never truly compare to fresh food, the convenience factor is amazing. The desserts are great (and since things like crust are in separate packages, even my wife could share... darn). The entrees are all very satisfying. The packages are supposed to be for two people - and most of them are adequate portions, though I was disappointing in some of the vegetable packages (very small), but overall, we are pleased. I would still recommend that this package be supplemented with snacks, dehydrated/freeze dried fruit, etc., but you can't go wrong with this package - particularly when they are on sale!

Verified Buyer

Reviewed by Mom of a hiker from Georgia on Thursday, August 13, 2015

Just right for a 2-3 backpacking trip!

Reviewed by Tick from California on Thursday, July 9, 2015

Although this package deal gives you a good variety and cross section of items several of them are extremley low calorie & only 3 items are 2 serving full dinner meals and one is a very basic oatmeal and blueberry which could be bought in mass for cheap at any grocery store. At $6 for a larger 2.5 serving Mountain House you could pick up 5 of those and have A LOT more calories per $ and make up the
rest of your diet in snacks rather than dehydrated meals just some food for thought :).


Verified Buyer

Reviewed by Anonymous from Michigan on Tuesday, June 23, 2015

Excellent taste & quality. Tried eggs & Vegetable dish. I had never tried dehydrated food. Excellent seasoning & consistency. I didn't know what to expect. Little hints though, leave it in bag longer then it says & don't count on one bag being enough for 2 people. Very few calories for 2 people if you were hiking.

Verified Buyer

Reviewed by Andy from British Columbia on Monday, June 22, 2015

Good to have around. I would not want to live off it but for a few meals it is OK. I found the granola very rich and sweet and the main meals very salty. Easy to prepare though so convenient for a camping trip.

Verified Buyer

Reviewed by germanguy from Safety Harbor, FL on Sunday, May 31, 2015

My wife and I used several of these packs on our camping trips and we love it. It's easy to make and it doesn't take up much space in the car.
My favorite meal is beef stroganov and my favorite dessert is the cheese cake. My favorite side dish are the mixed veggies as they have great spices which gives it a nice kick. All the other dishes (Denver omelette, Huevos Rancheros, Mexican rice & beef etc.) and desserts are great too.

Verified Buyer

Reviewed by Jsmith from Portland Oregon on Tuesday, May 19, 2015

we camp on our motorcycles pretty often, these are compact, easy and light weight. you can't beat the price!!

Verified Buyer

Reviewed by Tim from TWXAS on Thursday, May 7, 2015

Good backing food for a great price. It's more like 2 people for 2 days worth of food but a great deal anyway.

Verified Buyer

Reviewed by Crazy hiker girl from WA on Thursday, May 7, 2015

For the most part, these are great meals! My only hesitation is on the desserts but Im sure they would be fabulous on a longer hike on day 3 or 4. I ate the mousse on day 1 and wasn't overly impressed. The meals are very tasty though. I usually eat the whole bag to myself however as I've usually worked up a bid appetite after a day of climbing or hiking. If your a big eater, I would plan these to be 1 person meals rather than 2. For emergency preparedness, they are great and one could ration their food supply, as an emergency would demand.

Verified Buyer

Reviewed by Shaun from Washington on Monday, April 27, 2015

I love this pack! It's perfect for going camping for the weekend.