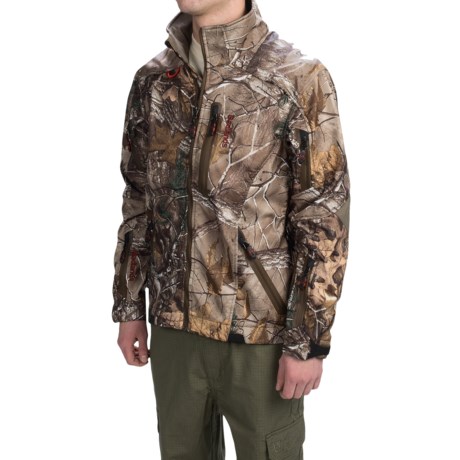 Wonderful bridge between the cold and wet
Reviewed by Doc Montana from Montana on Sunday, January 3, 2016

The difference between average and high performance is found in the final few percent. And it is within those last percent that the difference between a successful hunt and failure is found. Many game animals are just a few percent out of reach. They are seen briefly or when already on the run. They circle the lure but don't bite. Or they can stay still longer than the hunter. Especially when comfort is an issue.

First, let me say this is not my only hunting coat, nor my only Badlands coat. I am reviewing this particular Badlands Enduro Jacket for what it does well and during the appropriate times to use it. I'm not much of a poser since there is nobody to pose for around here in the high country of Montana, not that anyone here would care anyway. The proof is in actions.

Seriously. The Enduro can provide those final few percent to success. While the Sent-Blocker might mask orders, and the Real-Tree camo might keep you hidden, but if you are not comfortable sitting still, warm in your hide, you will be as obvious to the game as a jeep in the desert.

The Enduro has a natural fit that moves fluidly with you instead of against you like lesser hunting clothing. The pockets are placed where you hands naturally go, and the vents provide cooling only when necessary. But none of this matters if the jacket is not durable for hunting. Luckily the folks at Badlands identified the high wear areas and reinforced the high-stress areas with none other than the same material that is used in bullet proof vests. Not that the coat's elbows will stop bullets, however.

The folks at Badlands take ventilation seriously. Hunting is a full-day full-season activity so a coat is just one layer in a system. And in this case, the coat is also a system. No less than four zippered vents grace the sleeves of the Endure. The increase in air exposure is not great but it is noticeable. There are also some built-in vents of small stature that are more apparent then the jacket is in motion. When sitting still, the vents remain fairly flush and non-active.

The Hex-lite fleece lining, regardless of it's fancy name, is a fine insulating material. It's quite, warm, and smoothly comfortable. Which is exactly what I want. I've got a closet full of pile coats (as well as Gore-Tex, down, and everything in between. Everything. Where the Enduro shines is the window between rain and deep cold. Which, as it happens, is most of the quality Montana hunting season.

I've hunted in cotton and denim, through down and goretex. What works is what is adjustable and comfortable. And for me, the Badlands Endure is a fine compromise between too little and too much. In fact, it is the Goldilocks coat. It's just right.
Most helpful negative reviews
Similar items and more information in the following areas: