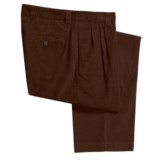 Closeouts. The soft, velvety hand and thick texture of Berle's corduroy pants wards off chills with a mid-size wale.
Average Rating based on
78
reviews
3.256410
0
5
Verified Buyer

Reviewed by qw from nj on Thursday, September 3, 2015

Good pants. But waist size is smaller than expected.

Reviewed by concerned consumer from Boston, MA on Wednesday, March 25, 2015

I ordered Barry Bricken pants and was sent an inferior brand that I had never heard of, Berle. I am surprised that STP is advertising one product and sending out cheap imitations. I now am very wary of STP and very disappointed in this business practice. Too bad, I used to like ordering from STP.

Verified Buyer

Reviewed by Tom from Virginia on Friday, January 30, 2015

These corduroy pants were not made by Barry Bricken - they were labeled Berle, and they are probably the worst cords I have ever purchased - and I own a lot of corduroy pants (including Berle). It is bad enough to misrepresent a product, but then to send one of such poor overall quality, under the name of a quality brand, is totally dishonest. The workmanship on these pants looks like it was put together by children. The waist is larger and the length is shorter than stated. After looking at other reviews, and the variation in quality seen, it must be that different products are being shipped under the same name. To me that is dishonest and fraudulent. Buyer Beware!

Verified Buyer

Reviewed by Wrongday from Massachusetts on Sunday, November 30, 2014

I was a little disappointed when I got this package. It was immediately clear that these were "light" corduroys. I've never bought Barry Bricken pants before and I was hoping for a really quality cordoroy, but I probably could have bought pants of this quality at a local discount store. Besides the light material, the pockets were noticeably small, which also contributed to the cheap feel of the pants. Since I didn't pay very much, i kept the pants, but I don't think they will be worn very much during these New England winters.

Verified Buyer

Reviewed by John the molecular biologist from Michigan on Friday, November 28, 2014

I have now purchased 4 pair of these pants. All but one pair have obvious imperfections. Pair 1--brown, with left pocket so small that my hand could not fit into it. Pair 2--black, with left pocket lining incompletely sewn, which my wife fixed. Pair 3--brown, with front zipper flap sown incorrectly so that the zipper shows almost always. Pair 4--seems ok. These might or might not be closeouts, however they are irregular for sure. Every pair is different, and you should count on returning a large fraction of them to get one good pair.

Verified Buyer

Reviewed by Fred the traveler from New York on Wednesday, November 19, 2014

Too tight: not the correct size. Had I been able to wear them there was another problem: the pockets are too shallow to be usable.

Verified Buyer

Reviewed by John the molecular biologist from Michigan on Tuesday, November 11, 2014

Fit and finish are great. Unfortunately the left pocket on my black and brown pants were defective. Brown 32x32 pants had a pocket opening that was very small compared to the right pocket. I had to struggle to get my hand inside for my keys and then struggle to remove my hand. Not acceptable. I have returned the brown pants and ordered two replacements that have been checked before sending to me. The black pair of corduroy pants had a left pocket that was not sewn correctly. There are two seams, but only one was sewn correctly. My wife fixed this in a jiffy so I did not return the black pants.

Everything else about the pants was perfect.

Verified Buyer

Reviewed by Bird woman from Iowa on Wednesday, October 29, 2014

These looked nice on the screen ,but when I ordered them in my usual size, was disappointed they were so baggy and large through the legs. The material was also quite light weight. Had to send them back.

Verified Buyer

Reviewed by mipblue from Franklin, TN on Tuesday, September 16, 2014

nice double pleat design. fabric is soft

Verified Buyer

Reviewed by Barry Silverman from Aurora, CO on Saturday, August 30, 2014

These corduroy pants fit true to size and look great. A wonderful way to begin getting ready for the winter.