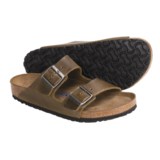 Closeouts. It's hard to go wrong in Birkenstock's Arizona sandals, especially when they feel like they were made just for your very own feet!
Average Rating based on
110
reviews
4.700000
0
5
Reviewed by Eak001 from Nebraska on Sunday, September 17, 2017

After finally figuring out what size and width to get these feel great. I wear a 9-9.5 and a b width. Ordered a size 40 and have a fairly wide foot but was told euro shoes run bigger and wider. Euro narrows are the same as regular/med. Width in the US. So ordered narrow and the fit is great. Only problem is the insoles squeak when I walk. Any suggestions, it's driving me crazy . Thanks

Verified Buyer

Reviewed by Poppy the Ski Instructor from So. Indiana on Tuesday, January 27, 2015

The leather of the uppers on this sandal are soft and floppy. That means you won't be able to just slide your food in. Instead you will have to reach down to put on your shoes. Not a real big deal, but contrary to why I want Birks.


Verified Buyer

Reviewed by Macsheep from Arizona on Monday, December 22, 2014

I greatly admire the quality and craftsmanship of German products and Birkenstocks are certainly well made. But after receiving this Birkenstock shoe (which I have no complaint with) I found that my old worn pair of 'faded glory' sandals are more comfortable because the heels are higher. The leather straps on the Birkenstocks are soft and do not stand up by themselves so I have to bend down and pull the straps up to put them on. I like my old sandals that I can just slip my feet into.

Verified Buyer

Reviewed by Txgrandma from Texas on Wednesday, September 10, 2014

To make these stay on my feet, I had to pull the straps as tight as they would go, which hurt the top of my foot, so had to return them. They feel great on the soles of my feet. Wish they made a true narrow.

Verified Buyer

Reviewed by Mike from California on Monday, September 1, 2014

Great price for a Birkenstock sandal. One of Birkenstocks most comfortable styles.

Verified Buyer

Reviewed by Theorema from Alabama on Wednesday, August 20, 2014

I owned a pair of these back when I was in high school and I loved them so much I wore them down to the cork and then some. Recently my boyfriend mentioned that he wanted to purchase a pair because he tried on his brother's birks and found them to be really comfortable. We both ordered a pair online and we love them so much that we even where them inside the house.

According to the Birkenstock website, narrow is a North American equivalent of normal so if your width is normal order the narrow. The sizes are true to size so you can't go wrong ordering online. If you're unsure of which size to order, order the smaller one. I'm usually a size 10-10 1/2 and I ordered the 10 size (41). The soft footbed is great for me since I have flat feet.

I do own over 30 pairs of Birks all different styles and types...

However, this is the first pair of "soft footbed" Birks I have purchased and WOW! what comfort! They appear to be identical to my old pair but that little layer of foam in the footbed makes a wonderful difference. I have been wearing them to walk on my treadmill every evening instead of my "sneakers". If I have a choice of traditional footbed or soft footbed I will always pick the soft footbed when I puchase any pair of Birks from now on !

Verified Buyer

Reviewed by user from NM on Tuesday, July 22, 2014

Just like I remember my other other Birks, but the soft footbed is immediately comfortable - no molding in period. A good product made better. And in widths to fit my feet!

Verified Buyer

Reviewed by Midwest Teenager from Iowa on Tuesday, July 22, 2014

I usually wear an 8.5-10 in women's depending on the store, and the size 41 fit my great! They arrived super fast, and they're just super comfortable.

Verified Buyer

Reviewed by K Squared from Indiana on Saturday, July 19, 2014

These are by far the most comfortable, out of the box Birk's I have ever purchased and I probably have 15+ pairs, various styles of which a few are the soft foot bed. Absolutely no break in needed. I wear a 36N and these run true to size. I loved the fit and comfort so much, I bought the other two colors. Couldn't beat STP's great price!

Verified Buyer

Reviewed by Lauraloolinda from New Mexico on Tuesday, July 15, 2014

Color is a light blue, very pretty, but not periwinkle.