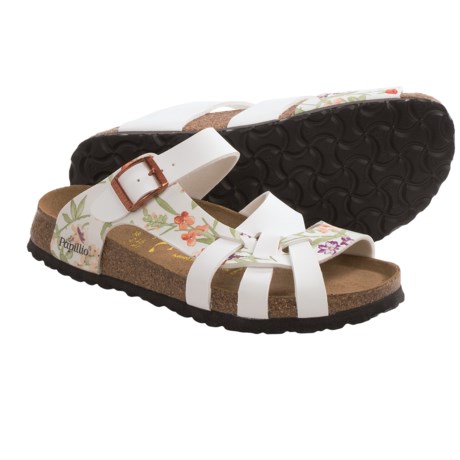 "I'm a size 6 women. So what is that in these sandles"
There should be a chart that let's you know your shoe size to correspond to the Birkenstock sizing. You may stop by a store near you to try on Birkenstocks before you order to get an idea of the sizing.

It should be 37, as size 9 is 40. Love them, received lots of compliments.

I'm size 6.5 and bought size 37. It fits fine. I would think size 36 should work for you.

A 36.6-37

A US women's size 6 would compare to a 36-37 in European sizes according to the comparison charts. I wear a size 8 and I take a 38. By the way these shoes are awesome! Very comfortable I love mine!

I am an American size 7 and my Papillio's are a 38 (UK) .... As an American size 6 .... look into size 37(UK) .... Hope this helps and hope you get the shoes ... they are so cute on the feet....

Hope that my answer helps. I am usually a size 8 medium in American sizes in shoes, sneakers, boots. Every shoe is different. In a Birkenstock, I wear a size 38 Narrow, which is equivalent to a size 7-71/2, according to the Birkenstock sizing. This size fits my size 8 medium foot perfectly. If you are a true size 6 and have not tried the Birkenstock line, I would suggest ordering both the size 37 and the 36 in whatever width your foot usually is. If you are a medium width in American sizes, probably the Narrow would work for you. Most of the Birkenstocks offer adjustability that is generous enough for most people. The reason that you may want to order both sizes is that you want your foot and arches to match up properly to the footbed of the shoe/sandal.

37(6 - 6 1/2 ), I believe, myself is size 8, so I ordered 39 ( 8- 8 1/2 )and it fits well.

I am a 6 and a half and have the 36 sandals. They could be a bit shorter. I have also worn 35's and that seems like it would be better for you. A lot depends on the particular sandal but I think you would find the 36 a bit long.

I would suggest you go to a large store near you and try on some Birkenstock sandals. They are carried by such places as DSW and Famous Footwear. Birkenstocks run pretty consistently through the brand, so you can try on a different style. They seem to run differently on different people. In closed shoes I take a 7 1/2 or 8, and in other sandals a 7 because I have short toes. In Birkenstock I take a 37, which they say is a 6-6 1/2. The description would say that I should take 38, which they say is 7-7 1/2. The Birkenstock fit is very individual for each person. The width is another issue in the fit. The Birkenstock N is more like the American M, or B. I find that in some styles of other manufacturers which are not adjustable in the front, the sandals might be too narrow for me, but this style is not. Many of the Birkenstock styles are adjustable in the front as well as at the instep, so width is not an issue at all. I hope this helps.

The conversion size would be a 36

Hi, It would be 37 in European size = size 6 in US, I am 7 so i bought size 38 EU, fits perfectly, you can choose Narrow width, or Medium Width which would be in the details description of the shoe.

hope this help

According to the size info provided, you would need the 37. Just hover your mouse over the sizes and it will show you what the US size is.

I take a 10...so 41 was my size. so 36 I guess

A size 36 or 37 will fit; the 36 will be fitted and the 37 will be a little bigger so it depends how you like your shoes to fit. Either one should work

That should be a 37 but you really should visit a shoe store to establish your size before ordering.

If you hover your mouse over or click on the sizes the corresponding numeric size will be displayed.

I'm a 5.5-6 and the 36 fits me perfectly! I have a little room between my feet and the edge of the shoe but that's supposed to be how it fits. For you, the 36 might work but try the 37!