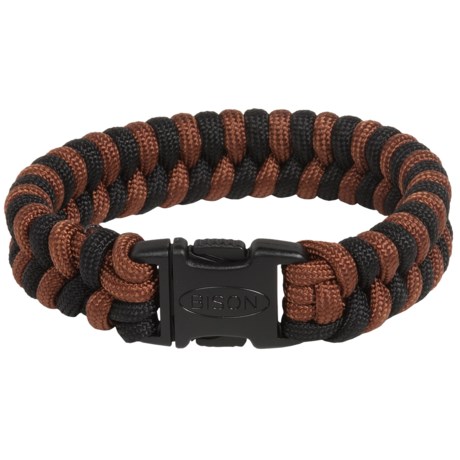 Sorry I never have had the opportunity to use it as anything more than a bracelet, perhaps another customer can help you? My guess is no...good luck!

Can you? Yes. Would you? Probably not. Normally, you would like to have long tag ends for braiding or weaving and then cut them off flush and melt the ends when you're done. So, in theory, you could do it but probably would find it too aggravating with such short tag ends. The clasps could be re-used with longer paracord if you wanted to but the bracelet is less than $5. Buy a few of them.

The clasps could be reused with new paracord, if that's what you're asking. I don't think you'd find it easy to re-weave the bracelet with the cord once taken apart. You'd normally want the cord with tag ends long enough to easily weave and then you'd cut off the excess and melt the ends. They're pretty inexpensive. You might want to buy a few if you think you're going to be needing the paracord.

I can't imagine re-weaving it, but then I wouldn't have known how to do it initially, either. To me it's just another boyscout item to wear backpacking or mountain biking etc. and have several feet of strong paracord available for an emergency of some sort, after which you would simply roll it up and put it in your pack. I wear one when I ride my dirt bikes in the mountains or deserts in case I need to strap a broken exhaust pipe to the frame, etc. Who knows what you might encounter in the wilderness. Better to just be prepared. It also looks kind of cool to wear as casual jewelry in between sports.

While it may be possible to reweave this, I believe that it is intended for one time use. It probably wouldn't be practical to reassemble it.