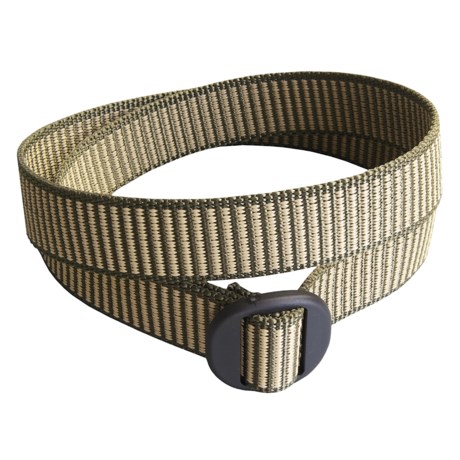 The size is the actual size of the belt. When you order a belt, you should order two sizes up and that will fit your size.

Bison Designs site indicates the sizes are an "up to X inches" size. So, up to a 38" waist or up to a 42" waist. If in doubt, consider going up to the larger size. You may end up with more of a webbing tail, but that can be tucked away.

It's the waist size the belt will fit. I trimmed about 3" off both of mine (both size 38) and they're still about 41" long, so that after cinching them up on my size 34 waist I still have several inches of "tail" or whatever the end is called. Sharp scissors and a lighter/match/candle will do the trick.

The size doesn't really matter, you will cut the end off to make it fit. Order extra large.

The size medium I ordered is approximately 44 1/2 inches long.

No it's much bigger. It's a medium and measures at least 42". I cut mine down and burned the edge for a clean finish. My husband wears it too.

The size medium belt that I bought was 44 inches long (not the advertised 38 inches). It is easy enough to cut down to size, then melt the end with a match to keep it from fraying.

Although the length was not verified with a tape measure, the size given seems to be the length of the belt. "M38" implies a medium belt of 38 inches length.