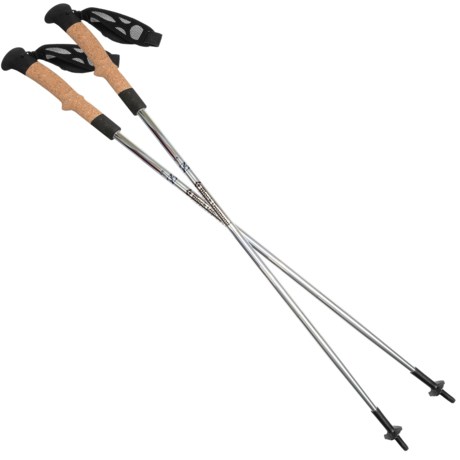 Sorry, but I have no idea. Maybe Black Diamond Company will answer your question: please call them at 1-800-775-5592. The poles are very light, but because of my advanced age I use them for walking only.

These cork handles do float, but I can't say I've tested them in deep water. They are very comfortable. I bought them for hiking and I'm very satisfied with them. I actually have the Simm's wading staff as well, which I use for fly fishing. Ironically I bought it on Sierra Trading Post as well. The Simms staff is a little more heavy duty (bigger diameter aluminum tubing, but otherwise the same). Both are very stable. I don't recall my Simm's staff having buoyant handles, but I don't have it in front of me to check. You won't get a waist pouch with these, as you do with Simms, but you do get two them for the same cost of a single Simms. I never used the Simms waist pouch since I use the staff very infrequently. I usually kept it in a backpack or the large pocket in the back of my vest. Can't beat the price of these Black Diamonds.

These do not float.

didn't check to see if they floated while i was using them. there is a small rope loop that holds the velcro strap on the handle. i attached a large zinger to it, so the staff stayed on the belt when not in use. float or no, i would attach it to my person every time.