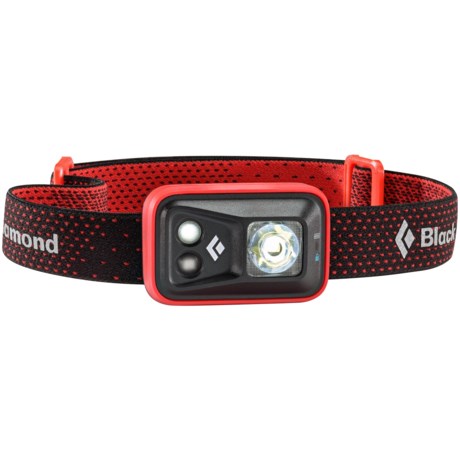 I was just in REI last week. I believe that it is the new one. I bought my headlamp when I lost mine on the Applichian Trail in May. If there has not been a model change since then ,the answer is yes. I replaced a OLD Black Diamond Icon, and this is a wider,just as bright beam. Eats batteries on the brightest setting. I walk two hours every morning in the dark, batteries start to dim in about eight days...

No, this is the 2013 version. New one gets to 130 lumens

Not really an answer; but I found the red lights to be too dim; even with new everready/duracell alkalines; to be too dim for use; even inside of a tent, and practically useless outside of the tent. - I do *not* expect much from the red lights to begin with.

Newest version or not? Check the specs, they differ.

Is it 'bad' at $30? No. I simply prefer my (found in a ravine buried) Petzel; which does not even have the red lights. Don't confuse a 1,000 features with any amazing breakthrough in function. Lots of button taps and holds and sequences on this one. I carried the instructions for a week before just going to a dartboard style of usage.

YMMV.

Check, the specs.

see site for direct compare http://www.candlepowerforums.com/vb/showthread.php?369149-Black-Diamond-SPOT-Different-or-Two-Versions
The one I received from STP is the 90 Lumen version. I use it extensively and it has held up well. I do not understand why the brightness battle in headlamps. I never use mine on full power. The dimming feature is the best idea in headlamps. I find very good battery life(remember I use dimmer mode). I am a long distance backpacker and have used this lamp on High Sierra loop of Yosemite and on the AT as well as many wilderness areas. I have no reservations in recommending this HL. Do play with it especially the lock off feature before you hit the trail. (Nothing worse then a HL that gets turned on in your pack and when you need it the batteries are dead.) There is a learning curve. The red leds are great for star gazing and give adequate light for cooking or tent use without blinding others. ALWAYS be aware of where your light is pointing so as not to shine into fellow hikers faces.