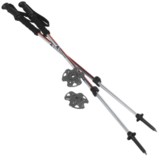 Closeouts. If you're someone that likes to keep your poles in your hands throughout your adventure, Black Diamond Equipment Syncline trekking poles are for you. With soft rubber grips and adjustable padded nylon wrist straps, these two-section adjustable poles add the stability and support you're looking for at an affordable price.
Average Rating based on
38
reviews
4.105263
0
5
Reviewed by Tom from Florida on Sunday, September 29, 2013

These poles were a great buy and will work well for everything I intend to use them for. Some other reviewers have complained that they do not break down to be as short as many others do. They are a bit too long to put in your luggage but work well as trekking poles. I actually like the two part construction since you don't have to adjust three sections and there is less to go wrong when one of the sections doesn't work the way it is supposed to. They are comfortable to use and easy to adjust.

Reviewed by HappyTrails 2U48 from Wisconsin on Tuesday, September 17, 2013

I read the comments about these not collapsing, but I didn't realize how long they really were--at their smallest, they are 38 inches long! These will be useful for hikes when we are traveling by car, but since we live pretty far from any serious mountains, I am wishing they would fit in my suitcase, and I don't have one that big! They seem like a very good quality product, and we do some road trips,so I will keep these, but I wish I had read the specs more carefully.

Reviewed by David the Hiker from Colorado on Wednesday, September 11, 2013

These poles have a clip lock rather than a twist lock which means they hold tight without slipping. This is essential if you use them for skiing. They are two piece, not three piece, which makes them long for attaching to a backpack, but it also makes them more secure as there is one less joint to fail.

Reviewed by Ranger Bill from Los Angeles on Thursday, September 5, 2013

Light due to no shock absorbers and the snap adjustment is easy and secure. Fabulous for the price.

Reviewed by cutnbind from Southern Maryland on Thursday, September 5, 2013

Love them, light and sturdy, amazing price.

Reviewed by Karen from North Carolina on Monday, September 2, 2013

I haven't used them yet but they seem like what I need for day hikes in the NC mountains.

Reviewed by Unknown from PA on Saturday, August 24, 2013

Got these for my brother to use in the ADK High Peaks. He never used poles before so these were a good price to try them out. Really solid product, day-hiked the Upper Great Range and Sawteeth with no issues. I have a similar pair of cheaper black diamond poles myself and have taken them over the presidential range, 10 ADK high peaks and 100's of miles of other trails. Still good as new.

Reviewed by justin from PA on Saturday, August 24, 2013

Being only in two sections, they don't store very compact...fairly lightweight. When extended, a bit "bouncy"...you can feel vibrations...
OK for the price.

Reviewed by Rufus from Portland on Tuesday, August 20, 2013

A great pair of adjustable poles at an affordable price. Strong and lightweight

Reviewed by Peppermint Patty from Wyoming on Thursday, August 15, 2013

I bought these for my husband who has difficulty with balance and walking secondary to a catastrophic accident. I am impressed with the locking mechanism (I have no worries these will slip), the twist on baskets which do not get sucked off in wet ground like the Lekis do, and the strength of the poles. They do not telescope very far but we will only be tossing them into the car.