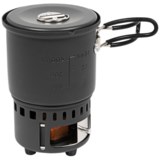 Closeouts. Bleuet's solid fuel camping stove combo set features a hard-anodized aluminum pot and stove, and solid fuel cubes that make it easy to heat water or make simple backcountry meals.
Average Rating based on
13
reviews
4.538461
0
5
Verified Buyer

Reviewed by chusual from NM on Tuesday, July 4, 2017

I used this for front country camping to heat water for coffee and freeze-dried meals. Works pretty well, was impressed. Very nifty. Takes up very small space, food for back-country or front-country where only hot water is needed

Reviewed by Pat from PA. on Thursday, April 6, 2017

Customer service says they'll rectify lack of cubes. No company like Sierra!

Reviewed by Pat from PA. on Thursday, April 6, 2017

I ordered one of these for myself, and one for a gift. I think the stove/pot is lightweight and really functional, but the overview states that this comes with fuel cubes and neither set had them. Regrettable, but not worth return postage. Otherwise, good buy.

Verified Buyer

Reviewed by BckPckHntr from Calif High Desert on Friday, March 18, 2016

Like how it is compact, nests together and works. Boils water quick and an improvement over the basic esbit and cup set up I was using. It is stable and no worry about having the pot slide off the top.

Verified Buyer

Reviewed by Larry the hiker from Texas on Wednesday, February 3, 2016

I tend to cover distance instead of staying in one place and I prefer to just eat dehydrated meals instead of cooking. For me, this cookset is ideal because it boils the two cups of water I need for my dinner at the end of a long day. In the morning, I need boiling water for my oatmeal and coffee. There's no cleanup and I'm on the trail. Perfect.

Verified Buyer

Reviewed by Mike the Tenderfoot from Washington on Wednesday, July 29, 2015

Light weight. I love the compression sock and how the three pieces nest together. Found out I can even add my titanium coffee cup to the nest and still fits all into the sock - neat! Fuel cubes work even in light rain and get the job done heating up to 600 ml of H2O. Only down side, the fuel cubes are a little 'stinky' but who cares?

Reviewed by Practical camper. from California on Monday, March 23, 2015

Unless u make your own hobo stove, this is as good as it gets. Was able to boil enough H2O for instant coffee & a pouch meal. The cup is small so had to fill & boil twice, using 3 esbit cubes. The handle stays cool & I've used twigs to extend/save fuel. It is small & lite. The mesh bag works to catch & hold bait for fishing in a pinch. 3Years of use & still works well. I took a star off because this price is crazy high so make sure to use a coupon!

Verified Buyer

Reviewed by Moduckgal from Missouri on Friday, February 27, 2015

I love this stove. It is very lightweight, and compact. I plan on using it in my Kayak for overnights on the river. The only thing I recommend is to put the fuel cubes in an airtight container of some sort. I am using a simple Ziplock snack bag. The reason for this is the fuel cubes "STINK" Found out the hard way if you put them in a waterproof airtight container, that everything in there soon smells like them. But I have found just doing this one small thing and there is no problem.

Verified Buyer

Reviewed by Robert from NC on Monday, February 9, 2015

This little set will save tons of pack room and weighs next to nothing compared to my GSI soloist. I will use with a DIY alcohol stove and use the fuel tabs only for heating water for hot cocoa as I can't get it to boil water on one tablet. Still, I an very pleased with the versatility this set will allow. I love the form factor also. Mesh bag is a real bonus. Thanks STP.

Verified Buyer

Reviewed by SpartanA2 from Columbus, Wisconsin on Tuesday, February 3, 2015

The combo set is a very good product. Light weight. Compact. However, the base has plastic knob feet. I did not want to chance them melting so I replaced with them small brass knurled knobs that I purchased at the hardware stove.

The fuel cubes will heat 2 cups of water to 170 degrees in 10 minutes at 800 ft. which is hot enough for most anything on the trail. If you need to boil the water you will need to add a second cube at 10 minutes and it will boil at 15 minute mark. Easy enough. The pot holds just over 2 cups.

If you want a hotter solid fuel, then buy the esbit cubes (at Amazon.com) as they burn at 1300 degrees. I would definitely replace the feet before using esbit cubes.