Experiencing your first foray into freezing weather? Don't worry, we've got you covered. You can learn all the details about how to dress for cold weather right here. First of all, when you dress for cold weather, you need to focus on layering and covering exposed skin. Remember that you can make your cold-weather wardrobe as stylish or as functional as you want, but you should always dress for the activity. For instance, you'll dress differently when you're leaving the house for work than when you're headed out for a day on the slopes.
If it's really cold and snowy, you'll need a breathable base layer, warm mid-layer and protective outer layer no matter what you're doing. You'll also need cold-weather accessories like warm socks, insulated or lined boots, gloves or mittens, a hat, and a scarf or a neck gaiter. Try to stay dry if it's snowing; wear a waterproof, insulated jacket and ski pants if you plan on spending time outside in the snow.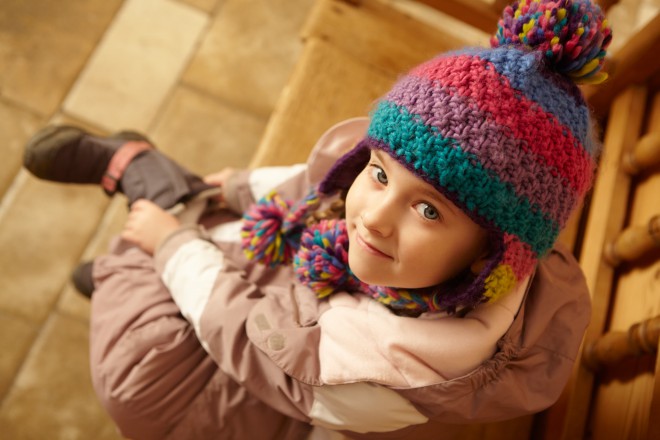 If you follow this step-by-step guide on how to dress for cold weather, you're sure to enjoy yourself outside this winter.
1. When it's really cold, you should always start with a midweight
base layer top and bottoms
. They should be breathable and moisture-wicking, especially if you'll be active in the cold. Merino wool, silk and polyester base layers are good options.
2. Layer your pants over the base layer bottoms. Avoid cotton denim or canvas and opt for water-repellent or
waterproof pants
if you plan on spending a lot of time in the snow.
3. Put on your warm pair of socks. Midweight and heavyweight
wool-blend socks
offer breathable warmth in cold weather.
4. Pull on a warm mid-layer, like a
pullover
or sweater. Polyester fleece and merino wool are great options.
5. Put on an insulating layer, like an
insulated vest
or
jacket
. If you have an insulated or heavy outer jacket, you may not need an extra insulating layer.
6. Wrap your
scarf
around your neck or pull on your
neck gaiter
.
7. Get your
insulated or lined boots
on. If there's snow on the ground, make sure they're waterproof and have traction outsoles.
8. Put on a pair of
insulated mittens or gloves
.
9. Wear a warm
hat
that covers your ears.
10. Finally, put on your last layer -- your winter coat (and snow pants if you need them). Your cold-weather coat could be a
waterproof, insulated jacket or parka
, which are both smart choices for cold, snowy conditions. Other choices include a high-quality wool
pea coat
or water-resistant
down jacket
.
Now you're ready to go out and enjoy the cold! Need even more details on how to dress for cold weather? Check out our
How to Dress for Winter guide.