Whether it's your first time backpacking or you're headed out for the next grand adventure, learning how to load your backpack is one of the basic essentials to having a more enjoyable time out on the trail. Simply put, if you feel that your pack is one with your body and not shifting as you hike, you'll find your thoughts will shift from yelling at your pack to appreciating the world around you.
Get Organized
First, take a look at our
backpacking essentials guide
for what to pack. When planning for your trip, lay out all of your gear and practice loading your backpack until you feel comfortable with the routine.
Compression sacks
allow you to slim down your clothing, and sleeping bag and give you secondary insurance on keeping them dry. Stay organized by using brightly colored stuff sacks to coordinate them with your
first aid kit
, food bag, and hygiene bag to know what color to grab when you need it.
Layer Your Pack
The basic layering system for your backpack is based on putting the heaviest items in the middle and closest to your back in order to keep your center of gravity in a position that makes the weight easier to manage. This means putting your
sleeping bag
in the bottom of your pack since you won't need it during the day. The next level up will be your heaviest gear, which is often times your
food
bag.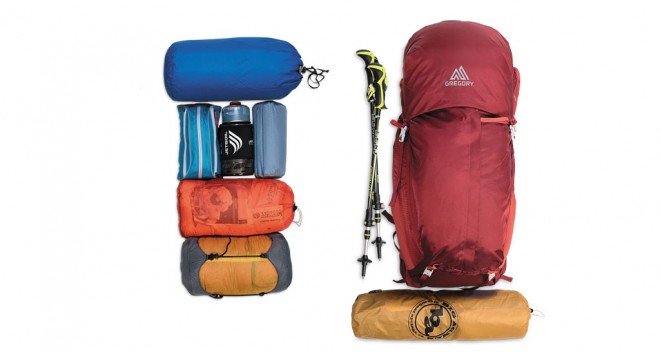 Then imagine your pack is split halfway down the middle and your goal is to balance out the weight equally on each side. So if you place your
cook kit
on one side you might want to balance it out with your clothing bag on the other side. On the next level you could place your inflatable
sleeping pad
and first aid kit together. Of course this will be different for everyone depending on the gear and if you're sharing with a friend.
Make Good Use of External Loops
Try not to have a "garage sale" on the outside of your pack by hanging a lot of day-use items from the daisy chains. When your gear is allowed to sway back and forth, it can throw off your stability and cause your items to make noise with each step. Make good use of the external loops by securing your
tent
and tent poles to the outside of your backpack. Think about what you're going to use during the day and place those items in the outside pockets or in the brain of your pack. This could include a
water filter
,
rain gear
, an extra pair of
socks
, snacks, toiletries and maps. If your pack doesn't have a brain compartment, consider using a fanny pack to redistribute the weight and to make these items readily available. That's right, the fanny pack is back!
Essentially, the more you practice loading your pack the easier it will become, and eventually you'll find a system that works best for you. Hopefully by adopting these basic guidelines, you'll become one with your pack and find it that much more enjoyable to throw it on your back and start exploring.
Get a visual on how to pack your backpack by watching this video. For more backpacking tips and tricks, visit our YouTube channel.