At Sierra Trading Post, we love to get outdoors, and we love to see you get outdoors, too. Spending time outside can be as easy or as complicated as you make it. We like to simplify things, so each week we produce a new tip on our YouTube channel to help you have great experiences outside.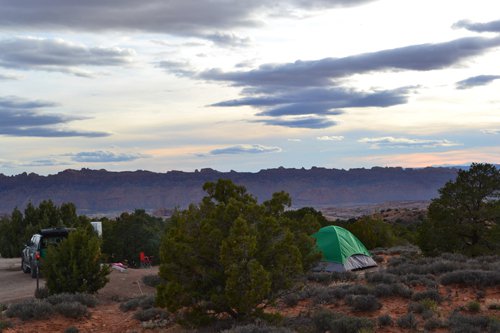 Take a look at these 10 outdoor hacks to make exploring the outdoors safe, simple and fun.
1. Hiking Tip: Cleaning Water Bottles and Hydration Bladders
It's OK, we often forget about cleaning our
water bottles and hydration bladders
, too. If your main means of hydration is long overdue for a cleaning, we have five easy cleaning techniques for you to choose from.
2. Backpacking Tip: Reducing Pack Weight
One of the most difficult things about backpacking is subjecting your shoulders and back to the weight of a heavy pack. When it comes to reducing pack weight, we have a few ideas. This tip touches on paying attention to trail-side water sources so you don't have to pack on so much water weight.
3. Outdoor Cooking Tip: Making Clean up Easier
Cooking over a fire results in delicious meals... and soot-covered
cookware
. This method will help prevent that burned-on mess, making campsite clean up that much easier.
4. Outdoor Cooking Tip: Conveniently Carry Eggs
Speaking of food, we love trying new recipes at camp. But sometimes the ingredients can be a pain to pack. Eggs, for example, are messy. Luckily there's a simple way to store them so you can easily eat them at camp.
5. Trail Running Tip: DIY Recovery
Running, especially on the trails, is a great way to get outside and get in shape. You don't have to spend a fortune to sooth sore muscles. We offer up some recovery methods using common household items.
6. Backpacking Tip: Increasing Sleeping Pad's Warmth
If you tend to get cold at night while backpacking, we have a simple solution to help you improve your sleeping pad's insulation. Just empty your backpack and slide it under your
sleeping pad
for a warmer night's sleep.
7. Climbing Tip: Avoid Back Clipping
Rock climbing is a fun way to challenge your body and your mind outside. With sports such as climbing, it's important to understand how to correctly use all of your gear. When lead climbing, clipping the
rope
into your quickdraw correctly is vital. Here's a quick tip to help you remember how to clip your rope.
8. Camping & Backpacking Tip: Tying a Guy Line Knot
Using guy lines to add stakes to your tent helps increase your tent's strength and stability. Learn how to make a simple and adjustable guy line knot for an easy way to improve your
tent's
support.
9. Trail Running Tip: Shoe Lacing Techniques
Feet come in so many different shapes and sizes... finding a
shoe
with that perfect fit can be a challenge. You can customize your shoe fit with these simple lacing techniques. This will help your feet stay happy on those long hikes and trail runs.
10. Camping & Backpacking Technique: Drying a Soaked Lighter
If your lighter gets soaked due to being left out in a storm or dropped in a stream, don't panic. We've got a simple way for you to dry out that lighter so you can continue using it on your trip.
Did you enjoy these tips? Take a look at our
YouTube channel
for even more tips and tricks to help you get outdoors.