Dispersed camping is the perfect outdoor overnight option for people who want the comforts of car camping but the solitude of backpacking.
Dispersed camping, which is also referred to as primitive camping, is a term used to describe camping in a national forest outside of a designated campground. This means no amenities, such as water or bathrooms, but it also means you get to camp for free. And usually with more privacy than you experience at paid campsites.
These camping gems often allow you to park less than a few hundred feet from where you pitch your tent. How close you can get to your campsite depends on the capability of your vehicle; dispersed campsites are often found along rough dirt roads best handled by high clearance vehicles.
Some dispersed camping sites are marked, while others are more scattered. Rules differ depending on where you camp, but you are always required to set up camp at least 100 feet away from any water source and pack out what you pack in.
So where can you find these free campsites? Take a look at this list of five dispersed camping areas in Colorado to get you started.
1. Creedmore Lakes: Fort Collins
If you live or are traveling near Fort Collins, the Poudre Canyon will meet all of your dispersed camping needs. Creedmore Lakes is one of several primitive camping areas worth checking out. Perfect for fishing and hiking, this spot features a number of dispersed camping sites along Creedmore Lake, which is north of the town of Redfeather Lakes.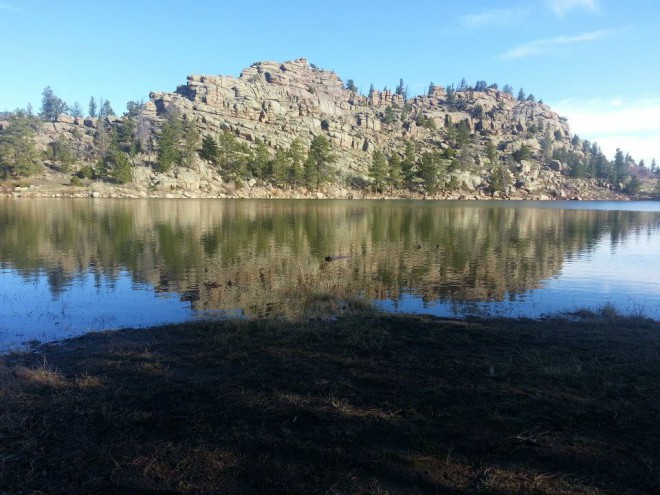 Getting There:
From Fort Collins, take US 287 N (College Ave) to Livermore. Veer left onto W. County Road 74e (Red Feather Lakes Rd) and stay on this road for about 46 miles. Turn right onto Creedmore Lake Road and follow this road for six miles. (Please note this is a rough road best navigated by high clearance vehicles.) This road will bring you to a parking area. From here follow the hiking trail to choose from a number of dispersed camping sites.
2. San Isabel Creek: Crestone
Just an hour drive from Great Sand Dunes National Park, Crestone is a beautiful little mountain town perfect for escaping the Sand Dunes crowds. While this town offers a campground, dispersed camping is also available. Simply follow the road toward San Isabel trailhead along San Isabel Creek. Mosquitoes can be bad during the summer months, so be sure to bring plenty of bug spray or
insect repellent clothing
if you plan on camping in June or July.
Getting There:
From Denver, take US 285 S for about 165 miles. From here continue onto CO-17 for about 14 miles, and then turn left onto County Road T. Stay on County Road T for about 7 miles before turning left onto County Road 66T. You will drive along this gravel road for about 5 miles before crossing a cattle guard and continuing onto a dirt road. Dispersed campsites will begin to appear shortly after crossing the cattle guard. This road continues to the San Isabel Creek trailhead, where more dispersed camping can be found.
3. Caribou Townsite: Nederland
Located just outside of Boulder, Nederland is a cute Colorado town that offers ample hiking opportunities. A number of trails in Nederland venture into the breathtaking Indian Peaks Wilderness area, while others offer aspen loops perfect for the fall. One dispersed camping area in Nederland is the Caribou Townsite, which offers 11 designated camping spots that fill up on a first-come, first serve basis.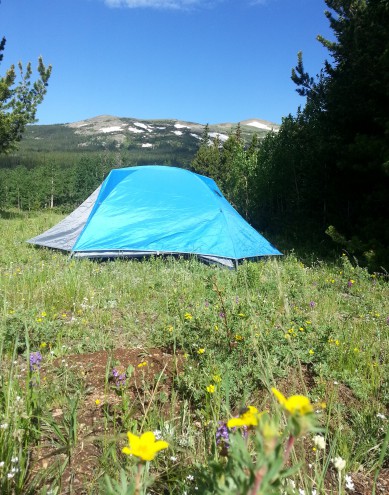 Getting There:
Take I-25 N to US-36 W. Follow US-36 W for about 20 miles and then turn left onto CO-119 (Canyon Blvd). Once in Nederland, take CO-72 (2nd St) for 0.5 miles before turning left onto County Road 128 (Caribou Rd). Follow this road for five miles to Five Points. You will find parking areas here. Numbered campsites are located along National Forest Service Road 505 within 1.5 miles of Five Points.
4. Montezuma Road: Keystone
Looking to go west? Then check out Montezuma Road. This road is located between Georgetown and Dillon, just east of Keystone Ski Resort. This spot will put you close to hiking and summer ski town fun. Another plus? This paved road is more car-friendly than other roads to dispersed camping areas, so you can find a spot even if you don't have a high clearance vehicle.

Getting There:
From Denver, take I-70 W to US-6 W (Loveland Pass). Once over the pass, take a left on Keystone Road followed by an immediate left onto Gondola Road. From Gondola Road, take a right onto Montezuma Road. You will begin to see campsites on both sides of the road after two miles.
5. Rabbit Ears Pass: Steamboat Springs
Located in Northern Colorado, Steamboat Springs has it all. Hiking, hot springs, mountain biking, a ski resort: you'll be sure to find fun in this mountain town. One area in which you can find dispersed camping is along Rabbit Ears Pass. This pass has two established campgrounds in addition to free, dispersed camping along most dirt roads on the pass.
Getting There:
From Denver, take I-70 W to exit 205 for CO-9 N toward Silverthorne/Dillon. Turn right onto CO-9 (Blue River Pkwy). Continue on CO-9 for about 37 miles. Turn left onto US-40 (Park Ave). Follow US-40 for 30 miles, and then turn right for Rabbit Ears Pass. Keep an eye out for camping spots along the pass's dirt roads.
*All photos courtesy Lauren Seidl