Sleeping bags. They are bags that you sleep in. What's so complicated about that? Sleeping bags have actually evolved into a pretty nifty piece of sleeping technology to help us stay comfortable during those cool nights spent outside (
you can read about the sleeping bag evolution
if that piques your interest). Take a look at these five things you may not know about sleeping bags.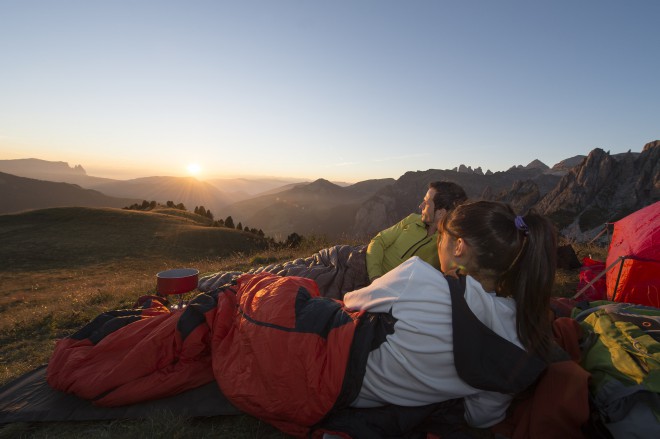 1. You Can Zip Two Together to Create a Double Sleeping Bag
Have you ever noticed that some sleeping bags come with zippers on the left side, while others have zippers on the right? This isn't just to accommodate for which hand is dominant. You see, kids, when a left-zippered sleeping bag and a right-zippered sleeping bag get together, they can create a double sleeping bag. Zipping two sleeping bags together is a great way for you and your tent buddy to make the most of your body heat and stay warm on cold nights. Of course, this only works if you're willing to snuggle.
2. The Comfort Rating Temperature Can Be Misleading
The comfort rating on your sleeping bag tells you the coldest temperature you can withstand in your sleeping bag while staying comfortable. But what does that really mean? The interpretation of "comfortable" and the production of body heat varies from person to person. This is why adding a 10 degree buffer to your sleeping bag's comfort rating is a great practice that can keep you and your camping mates happy. Using this rule, if you have a sleeping bag with a comfort rate of 30 degrees Fahrenheit, you wouldn't use it in temperatures colder than 40 degrees Fahrenheit.

3. There Really is a Difference Between Men's and Women's Sleeping Bags
It seems strange that something as simple as a sleeping bag would need designs specific to gender. But believe it or not, sleeping bags designed for women do have features that can help the female adventurer get a better night's sleep. Women's sleeping bags are usually narrower in the shoulders and wider in the hips than men's or unisex sleeping bags. This more precise fit helps keep the sleeping bag warmer by preventing extra airflow. Women's sleeping bags also tend to have more insulation than men's or unisex sleeping bags. Men produce more body heat than women, so a warmer bag helps women stay more comfortable on cold nights. Extra insulation is usually found near the feet and the torso of a women's sleeping bag.
4. You Need to Pack 'Em Tight and Store 'Em Loose
Most sleeping bags come with two sacks: a stuff sack and a storage sack. The stuff sack is great for packing your sleeping to go on camping and backpacking trips, but that's all it should be used for. For everyday storage, you should be using the sleeping bag's roomy storage sack; the name really says it all. If you keep your sleeping bag crammed in its stuff sack for long periods of time, the fill could become damaged and cause cold spots in the bag.
5. Too Much Layering Inside Your Sleeping Bag Can Make You Cold
Your sleeping bag is designed to keep you warm. That's its job. When you pack on the layers before crawling into your sleeping bag, you could be compressing the bag's fill, preventing it from performing to the best of its ability. The best way to stay warm inside of a sleeping bag is by wearing comfortable base layers from head to toe (hat, shirt, pants, socks) and using the cinch on your sleeping bag's hood if it has this feature. The goal is to let your sleeping bag's fit and insulation work with your body heat to keep you a toasty and happy camper.
Want to know more? Read our
buying guide on sleeping bags
to get more in-depth information about sleeping bags and how to choose one that's right for your camping and backpacking adventures.