Autumn can be an amazing time to spend a night or two in a tent. Leaves are changing, pesky bugs are nowhere to be found, and your favorite trail might be less crowded as the temperatures start to drop. Of course, there are a few things you'll want to think about before you head out for a camping trip in the fall.
1. Check for Off-Season Schedule Changes and Closings
On a trip to Acadia National Park in September, my friends and I were relying on the park's free shuttle system to get us around in between hikes. We neglected to check the schedule properly and in one case, the bus we needed ran on a modified schedule outside of the summer high season. Don't make the same mistake we did; check for things like campground closings in the off-season, whether campground hosts will be available and if check-in hours change.
2. Pack Plenty of Layers
Managing your body temperature when you're outdoors all day, and all night, is incredibly important. Being hot is never comfortable, and being cold can put you at risk for having an unpleasant camping experience, or worse. Temperature fluctuations are common this time of year, so plan ahead and bring layers you can easily take off during the day or put on during cool early morning and late evening hours. Things I'll pack for a camping or backpacking trip in the fall that I would leave at home in the summer include thermal underwear, extra thick socks, a warm hat, a pair of gloves, and a
down jacket
.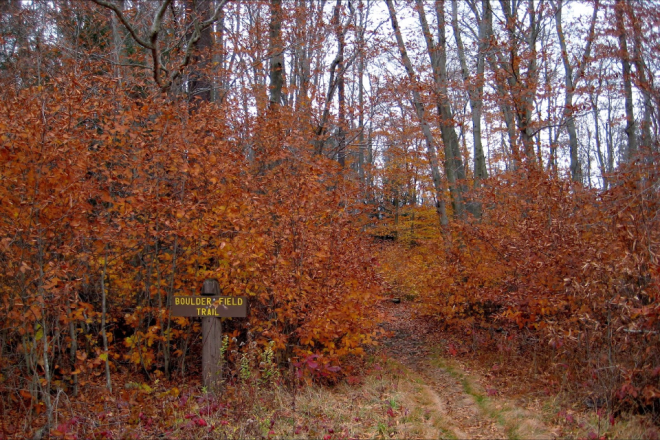 3. Plan for Fewer Daylight Hours
Unfortunately, with the onset of autumn's beautiful leaves and seasonable temperatures comes shorter days. Though we get nice, long days in the summer, don't forget you'll get a lot less time with the sun up in fall, and plan campsite arrival accordingly. If you can arrive at your campsite early enough to make use of the sunlight you still have available, do so. If arriving before dark just isn't an option, make sure you have a reliable
headlamp
, lantern, or a similar device so you can see what you're doing.
4. Be Prepared with a Sleeping Bag for Colder Nights
There's nothing worse than spending the night shivering in your tent. It's uncomfortable, preventable, and can even be unsafe. Remember, sleeping bag temperature ratings measure the lowest temperature in which that particular bag will keep the average sleeper warm. The ratings can vary between sleeping bag manufacturers, and metabolism varies between people. I find that a 35ºF bag is perfect for me when the temperature drops to 40ºF, but if it's colder than that, I'll be uncomfortable. Bring a sleeping bag rated for temperatures colder than what you expect, and pack extra layers just in case. Learn more about how to get the most warmth out of your sleeping bag by reading Sierra Trading Post's
sleeping bag buying guide
.
5. Don't Leave the Sleeping Pad at Home
On my first backpacking trip, I turned my nose up at sleeping pads, thinking I could absolutely rough it without something soft to sleep on. Classic beginner mistake, right? Sleeping pads aren't just to keep you comfortable, they're also key to helping you stay warm at night. They insulate your body from the cold ground; if you're not protected, you'll lose a lot of body heat quickly. Try a closed-cell inflatable pad and double up if you know you get cold easily.
6. Bring Equipment and Ingredients for Hot Beverages
One of my favorite things to bring on fall camping trips is apple cider. It's in season, it's easy to find and it's one beverage that makes me happy no matter what mood I'm in. As the sun sets, make sure you've got the equipment and ingredients for hot apple cider, tea, hot cocoa, or whatever beverage makes you feel warm and happy inside before you turn in. And don't forget to bring enough for the next morning. If java is your thing, try specialized outdoor coffee presses or bring your favorite brewing system from home. Believe it or not, you can
make really good coffee while camping
!
7. Stay Up-To-Date with Weather Forecasts
Though packing the right layers can help you manage your body temperature outdoors in fall, it's helpful to know what layers to pack and what to expect based on the temperatures you encounter. Weather can fluctuate quickly in autumn, so make sure to check the forecast frequently and up until the minute you're ready to head out. Depending on where you're going, you might need to prepare for rain, potentially even snow.
What other tips do you have for fall camping? We'd love to hear from you in the comments!