I have a confession to make: Since having my child I have not truly camped. Mason is now 3 years old and I keep thinking we are going to go backpacking, then summer passes us by. While I long nostalgically for my backpacking past, I have to admit I am embracing glamping to the fullest. Appreciating that sleeping in nature is sleeping in nature, no matter how you do it, is key, especially when you want to keep your little people happy.
So if any friends ever make fun of you for glamping, here are my arguments for why glamping, AKA car camping, is the best way to camp with kids.
1. Boredom is easily averted.
You can bring everything you want to keep your family entertained. Horseshoes, bocce ball, Scrabble, Monopoly, bikes...
It's all welcome
as long as you can fit it in the car.
2. Meals are better.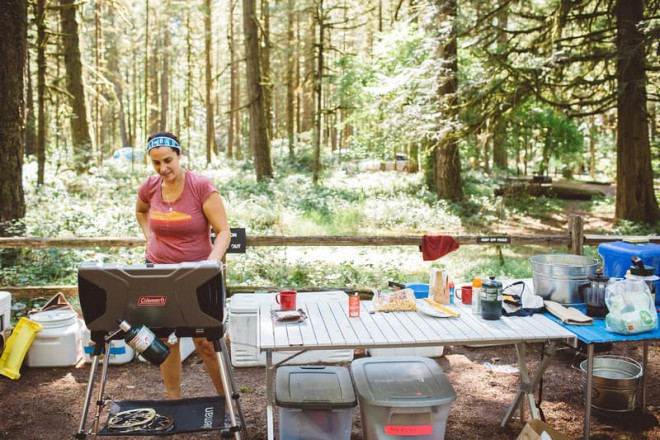 Don't try to tell me dehydrated backpacking food is yummy. No matter how high quality, organic, or grass-fed the beef in your "just add water" chili is, my glamping chili is way juicier.
3. Unexpected situations are easier to handle when car camping.
When you have kids you can expect them to have picked up the latest 24 hour bug at daycare and throw up the second you pull into a campsite. Car camping means you can make them comfy and give them a day rest while the rest of the group is out having fun rather than ending the trip.
4. Camping with babies is much easier when car camping.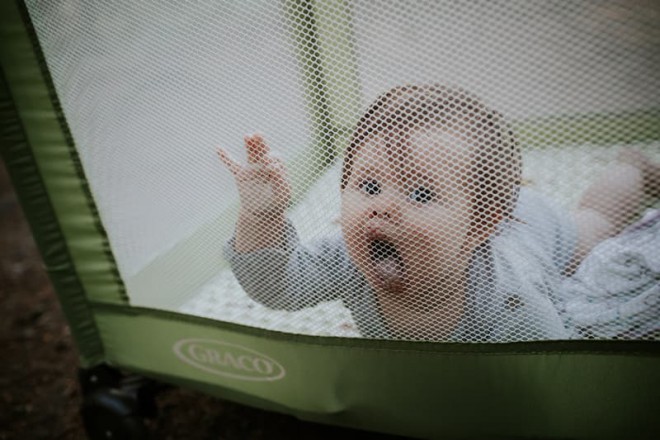 Being able to bring a Pack and Play will help you nap little ones and keep them more comfortable and less likely to wake up startled in the night. While studies have shown that babies sleep deeper in the cold (while bundled up of course), logic has shown me personally that a nursing mama will be happier if she has a warm car to sit in while feeding baby.
5. Easy access to shelter from the elements.
Heading out into nature means you might find yourself in an unexpected storm or a hotter weekend than you planned. We glamp with a pop up tent or a shade/rain tarp to make sure nothing sends us home. Our set up ensures that short of a tornado, we can weather most storms and have shelter to cook, hang out and keep on camping no matter what the weekend dishes up.
6. Bigger tents make camping possible no matter what nature dishes up.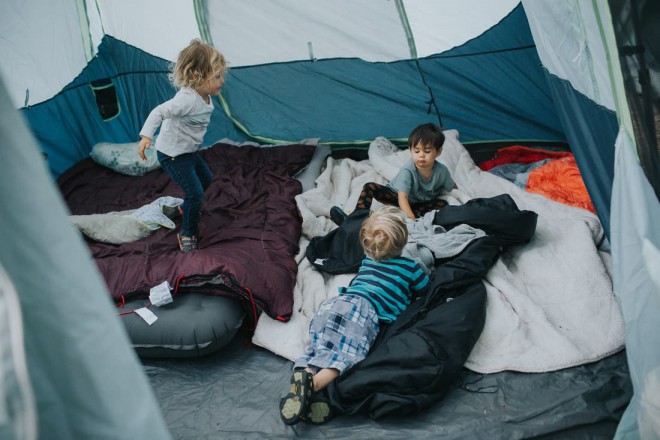 Hanging out for a day in the tent reading books and playing games when it's raining is not that much fun in a two-man tent.
More space
means it's easier to find things and spread out a little, which will prevent "tent fever" if you do find the weekend didn't exactly go as planned weather-wise.
7. Bugs can really bum a campsite out.
When you glamp you can bring a bug shelter to put over your picnic area, bug lamps or candles. You can also bring plenty of wood for fires. If you really want to go all out, there are propane-fueled bug repelling machines that will keep your site mosquito-free as can be. For someone like myself who is a mosquito magnet, having the right weapons of defense are key to my outdoor enjoyment.
8. Comfy bedding means you'll have a better sleep.
These days we actually camp with blankets and proper pillows. We even have a memory foam pad we bust out sometimes. I love sleeping on the ground, but I will admit I sleep better cocooned in the luxuries of home. After a camping weekend you should feel rested right? Not exhausted because you were up all night due to a protruding rock under your back.
9. Cold beverages after a long day in the woods are awesome.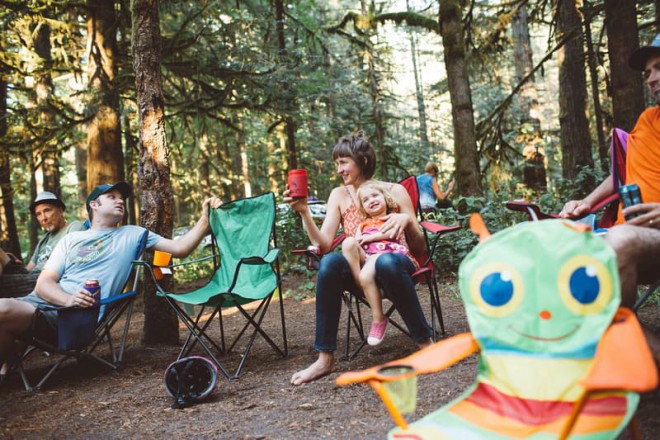 Ice is really hard to take along when backpacking. Yes, you can
chill that beer
in a creek, but you will have to set up the whole camp and make dinner before that drink is cold and ready for you to crack it.
10. Glamping is a stepping stone to backpacking
Glamping is a stepping stone to backpacking, whether you have gone minimal or not. I have found that I can get more of my camp-hesitant friends out if I encourage comfy camping. While this may not be the "real" deal as I once defined it, whether I glamp or camp, waking up to sunbeams streaming in my tent and birds chirping all around is the best way to start a day.
Photos within blog post courtesy Ashley D. Scheider of Hike it Baby. Featured image courtesy Tais Kulish of Hike it Baby.