Looking for a romantic (or chocolaty) camping dessert to enjoy around the fire? Whip up some chocolate fondue to share with your friends or sweetheart. Using a simple double boil method, you can use your fire to melt chocolate perfect for dipping strawberries, pretzels, bananas or any food of your choice. This dessert is sure to rival your average s'more.
For this campfire dessert recipe, you'll need the following:


Fire-safe pot


Mug, pot or other container safe to use in boiling water


Chocolate chips


Water


Milk (optional)


Step 1: Boil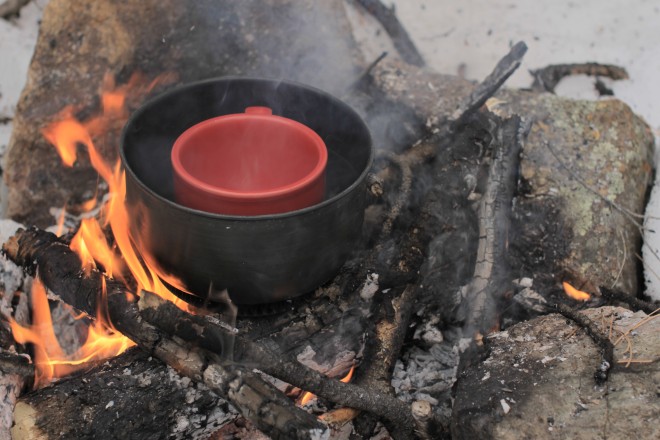 Fill a fire-safe pot with an inch or two of water and place it on a bed of hot coals in your campfire. Be sure to choose a spot that's safe from debris and large flames. (Of course if you have a
camping stove
, you can use this in place of the fire.) Bring the pot of water to a boil and then place your mug or second pot inside.
Step 2: Melt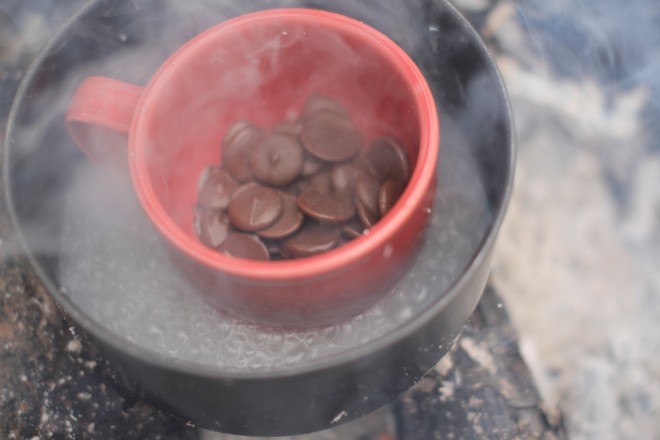 Fill your mug or second pot with chocolate chips or your melting chocolate of choice. Let that double boil system work its magic and melt the chocolate to your desired consistency. Be sure to stir often. You might need to add a little milk depending on how creamy you want your dipping chocolate to be.
Step 3: Dip & Eat
Safely remove your double boil system from the campfire (or turn off your
camping stove
) and bust out the food! Dip strawberries and other fruits or snacks into your freshly melted chocolate, eat and enjoy. Don't forget to share with your fellow campers.
See this recipe in action by hitting play on the video below.
Like this campfire dessert? Try another!
Salted Caramel Camping Dessert
Backcountry Grapefruit Pound Cake
S'moreos
Campfire Cone